6 Questions with "RECTIFY" Executive In Charge of Production Marshall Persinger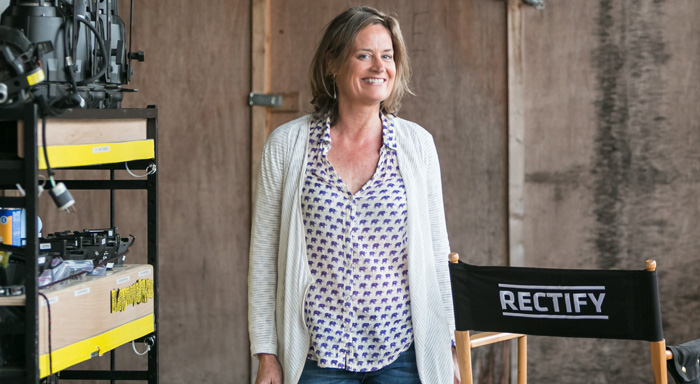 Executive in charge of production for RECTIFY, Marshall Persinger discusses traveling to Atlanta with the cast and crew for "Donald the Normal," compares To Kill a Mockingbird to RECTIFY and the biggest surprise in the series so far.
Q: Do you have a favorite scene from the first two seasons of RECTIFY?
A: It's hard to say favorite scene when you know from the inside how much goes into getting each one finished! My favorite to watch in Season 2 [Episode 210] is Daniel in the Courthouse conference room being basically coerced into another confession about what happened the night Hanna Dean was killed—it is painful to watch yet it is complex as to why he would say what he did—given the build to that moment all season—it so well acted by Aden, Sharon, Luke and Michael and shot beautifully by director Stephen Gyllenhaal and DP Paul Somers and co-edited by Travis Sittard and Steven Lang, all with Ray's hand. My favorite scene to shoot was Daniel's baptism in Season 1 [Episode 105) at a beautiful country church outside Griffin with the Peasall Sisters singing gospel (they had been in O Brother, Where Art Thou? when they were quite young). Their whole family drove down in an RV from Nashville to be in RECTIFY.
Q: "Donald the Normal" Episode 204 was nominated for a Writers' Guild Award. What was your experience like for that episode?
A: That was a wonderful episode from the first day I read it. For me it had a Midnight Cowboy feel to it and it was nice to get to see Daniel outside of Paulie. We enjoyed shooting in Atlanta at the High Museum (which of course was a scramble to get permission to do so in a short time frame, plus clearing some of the artwork there). We had a day and a half worth of scenes to shoot there in about 8 hours, but we did it and I thought the sequences turned out beautifully. We shot in Atlanta for two days, spent the night up there which was a nice change for the cast and crew. But I will admit we were happy to get back to Griffin where there is no traffic and sets are close by and easy to light and shoot.
I also loved the scenes with Kerwin's mother (the sublime Donna Biscoe) and brother (Aldis Hodge) when Daniel drops by for a visit, which we shot in Atlanta as well. One more thing: The music in that episode is especially excellent. When Daniel travels by bus and finds himself navigating the big city, they used "The More I See You" by Chris Montez as source. It's no surprise that the episode was nominated!
Q: Is there a specific mantra Ray McKinnon likes you to follow in regards to working on the show?
Since there is so much to discover in this seemingly simple yet complex story, with the characters and world of Daniel, I'd say Ray's mantra in every phase of the process of making this show is to never stop digging and looking for the best possible way to tell the story in EVERY scene (writing, acting, directing, editing, scoring). Luckily that's how I like to work myself so it's easy to work with Ray!
Q: If there was one thing you could tell people to get them to watch the RECTIFY marathon on Jul. 4, what would it be?
RECTIFY is set in the South and depicts a culture we Southerners are familiar with in a real way—no cliche—yet the story and characters are universal and relatable. Watching episodes is like reading chapters in a novel as these richly drawn characters are revealed. Think To Kill a Mockingbird. And don't be too sad after finishing the marathon—the new season will be starting on Jul. 9!
Q: You've been with RECTIFY for 3 seasons now. What's been the biggest surprise for you in the story so far?
That Daniel confessed again in the debrief. I am one who believes in my heart that he did not kill Hanna Dean and although we may never know what really happened that night, it's heartbreaking to see him being coerced to say something untrue in my mind. But what I love about this show in general is it's constantly confounding your expectations about both plot and character. Always taking the unexpected turn.
Q: Which character do you think is most like you in the series and why?
I relate to many aspects of most of the characters, especially Wendall (kidding). But I think I relate most to Amantha in her desire to help her brother, whether he likes it or not. And in her constant quest for truth and justice with a bit of an emotional flare evident every step of the way.
Need to catch up on RECTIFY? Find out where to stream, download or purchase Seasons 1-4.