6 Questions With "RECTIFY" Star Bruce McKinnon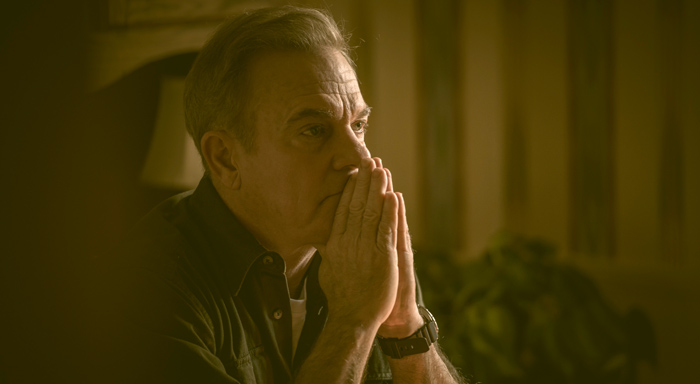 RECTIFY star Bruce McKinnon, who plays Ted Sr. on the show, gave us a sneak peek into Season 3 and shared exactly why the cast has such a special bond.
Q: The end of Season 2 left us with quite a few bombshells: Ted Sr. learns about Daniel's assault on Teddy and Daniel takes a plea deal. Can you tell us a little about Ted's mindset in Season 3 of RECTIFY?
A: Still trying to do the right thing for all concerned. Doing my best to protect and keep the family together, but as circumstances are revealed… it's becoming more and more like trying to grab smoke.
Q: Ted Sr. has always been one of Daniel's greatest supporters. What do you think the impact was on him of learning that Daniel assaulted Teddy?
A: Shock, disbelief, heartbreak… you have to understand I saw both of them as my sons and I tried to always love both unconditionally. Yes, major heartbreak combined with distrust and smoldering anger towards Daniel.
Q: Since you play a beloved father—do you have any advice for fathers out there?
A: I suggest listening to Bernadette Peters sing "Children Will Listen" (a song from the musical Into The Woods), and you'll get some beautiful suggestions on how to parent.
Q: What advice would you give your character if you could?
Make sure you do your best to know all the cold hard facts before making a major decision that will affect those you love.
Q: The cast of RECTIFY really feels like a family. How did you develop that rapport with the other actors?
A: I think respect and trust have a lot to do with it and we really enjoy each other's company. Whenever people are part of a highly emotional, challenging and extended group experience, there will be a special bond forged… hopefully a positive one like we have on RECTIFY.
Q: You've gotten to play opposite an array of amazing actress—you've been married on-screen to Julia Ormond, Bernadette Peters and, of course, J. Smith-Cameron. How have you perfected the role of the loving husband?
A: I've been blessed by the acting gods to have been paired opposite those three outstanding actresses. When you have that caliber of talent to work off of and play with, it brings out the best in your own ability. It's like soaring with eagles… beautiful eagles in this case.
Need to catch up on RECTIFY? Find out where to stream, download or purchase Seasons 1-4.