6 Questions with "RECTIFY" Executive Producer Melissa Bernstein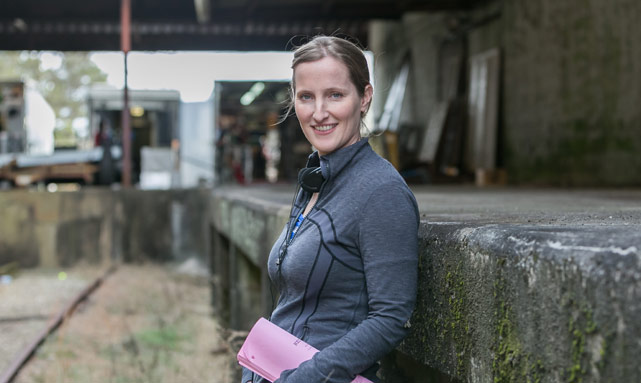 Melissa Bernstein, executive producer of RECTIFY, Better Call Saul and Halt and Catch Fire, shared with us the biggest surprise in RECTIFY so far, what she most looks forward to in Season 3 and how Saul Goodman would have handled Daniel's case.
Q: If you could meet any one character from RECTIFY in real life, who would you pick?
A: If I could meet any of the characters on RECTIFY, I'd pick Teddy or Melvin. I think Teddy is fascinating, and I'd love to get the chance to better understand how his mind works. He's very flawed and has a serious dark side, but he's very loyal and much more complicated than he appeared to be when we first met him. So I think there's a lot to discover about him. Plus, he seems like a lot of fun to grab a beer with. In Season 3, the audience may even get to see his dance moves. I'd also love to spend time with Melvin because he's such a caring, kind, and misunderstood fellow. I really appreciate that he went to pay his respects to Daniel when he was in the hospital and that he was so thoughtful as to reference their shared history of caring for turtles through chocolate. He's also clearly an excellent hugger, and everyone needs a good hug every once in a while. Teddy and Melvin are both really unique people and not the usual suspects you come across, especially on television.
Q: What's been the biggest surprise as you've brought the show this far?
A: I think the biggest surprise of the show for me is Daniel. The way Ray has developed his character has kept me guessing every step of the way. Daniel's been through so much in his life, but has so little experience with relationships that I never know how he will handle the curveballs he's thrown. He's his own worst enemy, but also an unexpected breath of fresh air. He's truly full of contradictions. Aden's portrayal of the character is so nuanced that I feel like I learn something new about him in every scene. He's enigmatic but always human, and I find myself constantly taken aback by his choices and reactions to the world around him.
Q: Can you share any good stories from the set of Season 3 without spoiling?
A: I am so excited to share Season 3 with the audience because we get to know so much more about the characters we've come to love over the first two seasons. We parachuted into their lives amidst the chaos of Daniel's return in Season 1, but in Season 3 we get the chance to understand how they became the people they are and what formative experiences shaped them. In Season 3 we get to continue on a very unique journey with Daniel, and, like in Season 2, we get to step outside of Paulie a bit, which definitely deepens the experience.
Q: What's it been like returning to the world of Breaking Bad with Better Call Saul?
It's been fantastic! It's such a unique opportunity to revisit the universe of a series so near and dear to my heart with a couple characters that I thought I knew, namely Saul and Mike, but that have, through the course of Better Call Saul, been revealed to me in all new ways. It's really exciting to get to know Saul's roots in Jimmy McGill and to discover what set Mike on his path. It's also been very interesting to explore Albuquerque in a whole new way. Through Better Call Saul we've gotten to spend time in the white shoe law firms, courthouses, and BINGO halls we never had the chance to set foot in during Breaking Bad.
Q: What would Saul Goodman have done with Daniel's case?
A: That's a great question! I think Daniel could do a lot worse. Saul is very clever, and he never gives up—two crucial characteristics in a lawyer. As we've seen, he also has a tendency to bend the law in his favor and to the benefit of his underdog clients. I think Daniel could use some creative thinking with his case, especially with Senator Foulkes working against him.
Q: How are you juggling RECTIFY, Saul and Halt and Catch Fire all at once?
One day at a time! I am very blessed to work on these three shows with such gifted showrunners, writers, casts and crews, so I consider it a privilege more than a problem. The shows are all so distinct that I get to flex different muscles with each as the challenges they present tend to be very different from each other. The variety of experiences makes each day different and exciting. Balancing RECTIFY and Halt and Catch Fire is probably the most complicated because their shooting schedules overlap, but, conveniently, they both shoot in the great state of Georgia, so I can literally be on both sets in the course of one day.
Need to catch up on RECTIFY? Find out where to stream, download or purchase Seasons 1-4.