Got a Favorite "RECTIFY" Season 2 Episode? Vote Now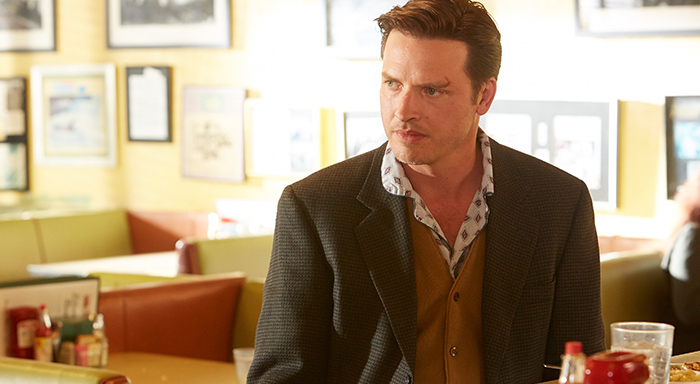 The ten episodes in this season of RECTIFY were full of memorable and show-stopping moments. But which one was your favorite? Read the recaps and vote in the poll below.
1. Episode 201: Running with the Bull
Daniel's family fears he won't recover and his attackers will escape justice. Judy Dean shows Bobby some unexpected affection. Ted, Jr. hides a shameful secret from his wife. Sheriff Daggett investigates Daniel's beating.
2. Episode 202: Sleeping Giants
Amantha dreads the worst as she prepares for Daniel to awaken from his induced coma. Teddy's business plans are thwarted by his dad and he gets some unwelcome news from Tawney. Jared learns more about his older brother.
3. Episode 203: Charlie Darwin
Daniel makes a startling decision, and Amantha is outraged and hurt when Janet defends his choice. Teddy asks a Tawney for a favor. Jon Stern gains insight into a client's case. Sheriff Daggett questions Bobby Dean.
4. Episode 204: Donald the Normal
A recovered Daniel explores Atlanta and enjoys a taste of big-city anonymity, while Amantha starts packing up her apartment. Tawney grows frustrated with Ted, Jr.'s shifting moods, forcing him to seek understanding from an unexpected quarter.
5. Episode 205: Act As If
Daniel meets an unusual local entrepreneur who makes him an unlikely offer. Amantha struggles to adapt to a challenging new role. Ted, Sr.'s patience is tested. Teddy bonds with Tawney and she makes a surprising decision.
6. Episode 206: Mazel Tov
Daniel angers his enemies when he turns up at the funeral of someone from his past and worries his family when he disappears on a mysterious errand. Janet's husband and children celebrate her birthday and present her with a couple surprising gifts.
7. Episode 207: Weird As You
Daniel continues to search for answers while Jon Stern has an enlightening conversation with D.A. Sondra Person. Senator Foulkes forces Sheriff Daggett to help him with an unpleasant task. Amantha bonds with a coworker.
8. Episode 208: The Great Destroyer
Daniel reluctantly asks for help. Janet sees the error of her ways. Jon Stern reveals some startling news. Jared turns to Ted, Jr. and Tawney for comfort. CJ Pickens offers some unsettling information.
9. Episode 209: Until You're Blue
Daniel considers his future. Amantha lets off some steam. Ted, Jr. is frustrated by recent events, and Tawney makes plans. Sheriff Daggett visits Benji Melton. Ted, Sr. takes steps to protect his family.
10. Episode 210: Unhinged
Daniel questions Jon Stern's advice. Tawney reconsiders her choices. Janet makes an upsetting discovery. Amantha levels with Jon Stern. Sheriff Daggett investigates a lead.
Need to catch up on RECTIFY? Find out where to stream, download or purchase Seasons 1-4.