What's Up Next for the Cast of "RECTIFY"?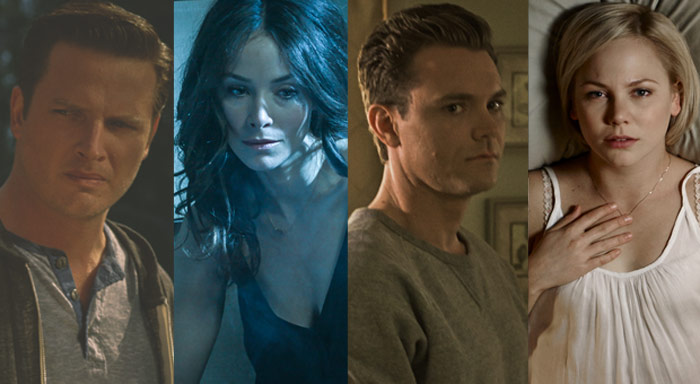 Can't wait for RECTIFY Season 3? Keep up with the stars throughout their upcoming big and small-screen projects in the meantime.
Following up 2014 roles in Australian legal dramedy Rake and the graphic novel adaptation I, Frankenstein (in which he played Dr. Victor Frankenstein himself), Young is set to star in the upcoming border drama Frontera. The procedural from director Michael Berry, slated for a September 5 theatrical release, also stars Ed Harris and Eva Longoria.
Abigail Spencer (Amantha Holden)
Spencer has a busy year ahead of her, with four films planned for an upcoming 2014 release and a fifth for 2015. Spencer's projects run the gamut from comedy (This Is Where I Leave You, starring Jason Bateman and Tina Fey) to thrillers (Damascus Cover, H8RZ, and The Forger—in which Spencer stars alongside John Travolta) to sports drama (One Heart, about a football team made up of juvenile offenders).
Adelaide Clemens (Tawney Talbot)
Aden Young's fellow Aussie has a film slated for 2014 and two more coming up in 2015. All of them boast some serious titles: The Girl Who Invented Kissing, a surreal romance also starring Zachary Quinto and Natalie Dormer; The World Made Straight, an Appalachian drama with costars including Haley Joel Osment and Minka Kelly; and The Automatic Hate, from Girlfriend director Justin Lerner.
Clayne Crawford (Ted Talbot Jr.)
The man behind Teddy has a variety of upcoming projects, including Spectral, a sci-fi actioner that features Crawford as a member of a special-ops team battling a supernatural invasion of New York City. Crawford will also play a detective caught between the present and the future in Convergence (co-starring Ethan Embry and Mykelti Williamson), as well as an embattled sergeant fighting to return to the front lines in A Fighting Season.
J. Smith-Cameron (Janet Talbot)
Smith-Cameron is set to star in Like Sunday, Like Rain, a story of the relationship between a down-on-her-luck musician and a 12-year-old prodigy, co-starring Debra Messing, Leighton Meester and Billie Joe Armstrong, as well as No Pay. Nudity, an upcoming comedy also featuring Nathan Lane and Gabriel Byrne.
You'll be able to catch Kirby later this year in Mania Days, a dark romance by director Paul Dalio about two manic depressives who meet in a psychiatric hospital. Kirby stars opposite Katie Holmes.
Need to catch up on RECTIFY? Find out where to stream, download or purchase Seasons 1-4.