"RECTIFY" Season 2 Music Round Up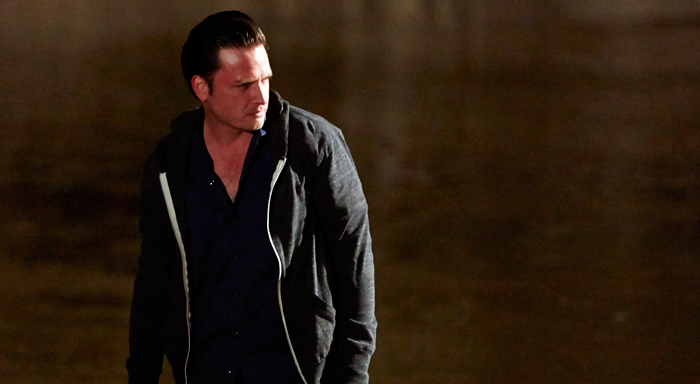 Though Gabriel Mann's original score provides the majority of RECTIFY's soundtrack, music supervisor Linda Cohen works alongside creator Ray McKinnon to pick just the right outside tracks for certain special moments. Here's your guide to every song featured in Season 2:
Episode 201 – Running with the Bull
Bob Holroyd – "Half Light"
Rob Lowe, Micheal Muller – Balmorhea – "Bowsprit"
Simon Lomax – "Aurora"
Oystein Sevag, Maria Eisenburger – "Forgiving"
Hans Reumschueseel/Hans Christian – "To a New Beginning"
Cary Ann Hearst and Michael Trent – Shovels & Rope – "Lay Low"
Hans Christian – "Inside Chartres Cathedral No. 3″
Mazzy Star – "Into Dust"
Drive-By Truckers – "Shit Shots Count"
The Murder of Crows – "When We Were Young"
Sun Kil Moon – "That Bird Has a Broken Wing"
The Low Anthem – "Charlie Darwin"
Episode 204 – Donald the Normal
Chris Montez – "The More I See You"
Ablaye Cissoko and Volker Goetez – "Amanké Dionti"
Aaron Benward and Brian McComas – "I Was Made to Be Hers"
Danna & Clément – "Water / Hanging Flame"
Gold Leaves – "The Silver Lining"
Drive-By Truckers – "First Air of Autumn"
Pérez Prado – "Caballo Negro"
Wanda Jackson – "Funnel of Love"
Oil Boom – "Revolutions Per Minute"
Drew Holcomb and the Neighbors – "The Wine We Drink"
Joe West – "Fool for Loving You"
Anna Johnson – "You and I"
Stacey Randol – "Fables"
Joanie Johnson – "He's The One"
Arvo Part – "Tabula Rasa: Silentium"
Glada Barn – "Tom Dooley"
Dorothy Squires – "Is That All There Is"
Hans Guenther Burnz – "High on My Heels"
Hans Christian – "Entering the Mystery"
Various – "Dead and Gone"
Section 25 – "Knew Noise"
Harold Budd – "Jane 5″
Sleep ∞ Over - "Rooftop"
Black Oak Arkansas – "When Electricity Came to Arkansas"
Episode 208 – The Great Destroyer
Hans Christian – "In the Chapel at St. Ives No. 3″
Hans Christian – "In the Chapel at St. Ives No. 2″
Mirel Wagner - "The Road"
Episode 209 – Until You're Blue
Arvo Part – "Fratres for Strings and Percussion"
Lisa Maxwell – "Super Supermarket"
Keaton Henson – "Beekeeper"
Robert Plant and The Band of Joy – "Silver Rider"
Arvo Pärt – "Fratres"
Need to catch up on RECTIFY? Find out where to stream, download or purchase Seasons 1-4.