"RECTIFY" Recap: Episode 210 (Unhinged)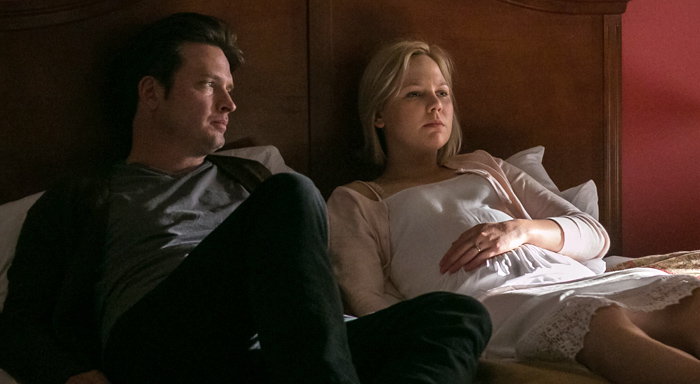 At the motel, Daniel wakes up in Tawney's arms and tells her he's leaving Paulie. She says she's leaving too. He then tells her that he assaulted Teddy but doesn't think Teddy deserved it.
Teddy leaves a voicemail for Tawney to find out if she's okay then looks for Daniel at the Talbot residence. Janet, sensing that something is amiss, asks what's wrong. Teddy tells her Tawney miscarried.
Sen. Foulkes orders D.A. Person to arrange a debrief with Daniel in order to extract a verbal confession. He contends that the judge will require a debrief before signing off on the plea deal.
Carl looks for George at his trailer in Florida. Observing the mess left by Trey and Daniel, Carl scoops up detritus from an ashtray and puts it in his pocket. He finds the note that Daniel left.
Jon urges Daniel to reject the plea deal and go to trial, confident that they would win the case. Daniel insists on moving ahead with the plea deal.
Carl reviews security camera footage from George's trailer park.
Janet visits Ted Sr. at the tire shop. He tries to tell her about Teddy's assault, but is interrupted by Janet, who assumes he's referring to the miscarriage. She comforts him.
Carl recognizes Trey's truck in the security footage.
In a death row flashback, Amantha visits Daniel to inform him that Justice Row is sending a new lawyer. She is confident Justice Row will get him out.
Amantha encourages Jon to take the Boston job and leave her in Georgia. She expresses doubts about their relationship and worries that they'll always remind each other of Daniel.
Teddy writes a note to Tawney. Meanwhile, Tawney consults a Bible in her motel room.
In the kitchen, Ted Sr. confronts Daniel about Teddy's assault and asks how they're going to make things right and tell Janet. Janet overhears them and demands to know what happened. Daniel informs her he's taking the plea deal and will be forced to leave Georgia.
On the security footage, Carl sees Trey leave the trailer park in his truck. To his surprise, Daniel leaves later on his bike.
Amantha explains to Daniel that she didn't just want to get him out of prison—she wanted to clear their name. She warns that she will never contact him again if he admits to killing Hanna.
At home, Tawney tells Teddy she needs time alone. She then expresses sympathy for his incident with Daniel. "He's taken everything," Teddy snarls as he realizes Tawney saw Daniel. Tawney walks out with her suitcase.
Jared stops by Daniel's room to say good-bye.
At the Paulie courthouse, D.A. Person debriefs Daniel about Hanna's murder. Daniel asserts that he never had sex with Hanna. He reveals that he saw Trey, George and Christopher have sex with her and later found her dead. He then describes how Sen. Foulkes and C.J., the former sheriff, coerced him into confessing. In private, Jon again urges Daniel to go to trial. Daniel ignores his advice. When the debrief resumes, Daniel tells D.A. Person that he strangled Hanna.
Jon and Daniel wait outside as D.A. Person prepares the plea for the judge.
At the Dean residence, Jared sneaks into Hanna's room, which still contains all of Hanna's belongings. Bobby discovers him and tells him to do them a favor and take anything.
At the station, Carl tells a colleague to run DNA tests on a business card that Trey gave him and compare it to DNA from the detritus he found in George's ashtray. Teddy walks in and asks if it's too late to press charges against Daniel. Carl calls D.A. Person.
Need to catch up on RECTIFY? Find out where to stream, download or purchase Seasons 1-4.