"RECTIFY" Recap: Episode 209 (Until You're Blue)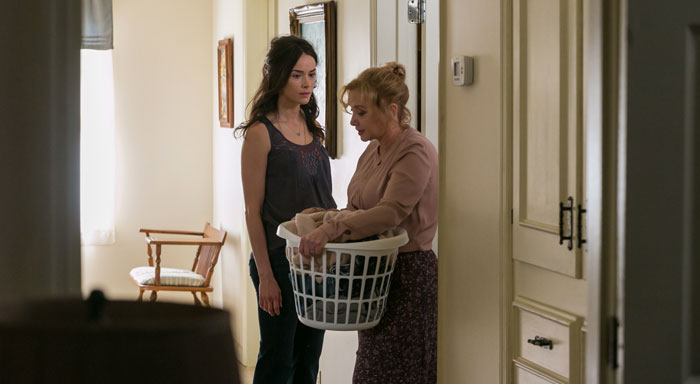 From the kitchen, Ted Sr. glares at Daniel in the backyard.
At the doctor's office, Tawney learns that she's had a miscarriage.
Ted Sr. reprimands Carl for telling Sen. Foulkes about Teddy's assault and putting him in the position of deciding whether to tell Janet. He worries Janet will never recover if she finds out.
Jon tells Daniel that D.A. Person is willing to abandon the plea deal on the condition that Daniel leaves Georgia forever.
At the shop, Teddy calls a customer to inform him that his credit card was rejected for his rim renewal.
At home, Amantha worries that Daniel and Jon are shutting her out of the plea deal discussions. Janet reassures her that they need space. Amantha asserts that just because she's not "private" like Janet or Daniel doesn't mean she is the "bad guy."
At home, Tawney calmly tells Teddy about the miscarriage. Teddy asks Tawney if she's in shock, but Tawney says she's fine.
Back at the shop, Teddy sits in his office, stunned.
Carl tells Mr. Melton that George is missing and that phone records placed him in Paulie six months prior. Mr. Melton mentions that when Hanna was murdered, the police and Sen. Foulkes interrogated George and Daniel without calling their parents.
Ted Sr. visits Sen. Foulkes and warns him never to contact him or his family again. Sen. Foulkes acknowledges that while his motives in pursuing Daniel are political, he also believes in his "heart of hearts" that Daniel killed Hanna and that Ted Sr. must have entertained the same notion.
In a death row flashback, Charlie the chaplain brings Daniel a letter that Amantha wrote after Daniel stood her up in the visiting room. She reminds him that the Daniel on death row "is not who you are."
Daniel stops by Thrifty Town to tell Amantha about the D.A.'s banishment clause. Amantha denounces the terms, saying they would prohibit Daniel from visiting the family. Daniel reassures her he hasn't yet decided whether to accept the terms.
At home, Daniel is unable to bring himself to tell Janet about the banishment clause. Instead, he simply says he can't live at home anymore.
Amantha tells Jon that they're going to lose Daniel and criticizes him for telling a "broken and reckless" Daniel about the plea deal.
While driving home, Teddy leaves another voicemail for the customer who hasn't paid for his rims.
At home, Teddy is thrown off by Tawney's calmness and speculates that she never wanted the baby in the first place. He bitterly tells her to sleep with Daniel. Sobbing, Tawney declares she's tired of their marriage. "Maybe you'll get lucky," Teddy replies. "Maybe he'll kill you, too. Put you out of your misery." She leaves. He breaks down sobbing.
Tawney ignores an apologetic voicemail from Teddy and checks into a motel room. She drinks wine and calls Daniel.
While guzzling beer, Teddy drives to a customer's house and begins to remove the customer's tire rims. The customer discovers Teddy and they brutally fight each other.
Daniel arrives at the motel room. Tawney tells him about the miscarriage and asks if she's a bad person for calling Daniel just like Teddy predicted. They dance.
Need to catch up on the rest of Season 2 of RECTIFY? Read all of our recaps!
Need to catch up on RECTIFY? Find out where to stream, download or purchase Seasons 1-4.