"RECTIFY" Recap: Episode 208 (The Great Destroyer)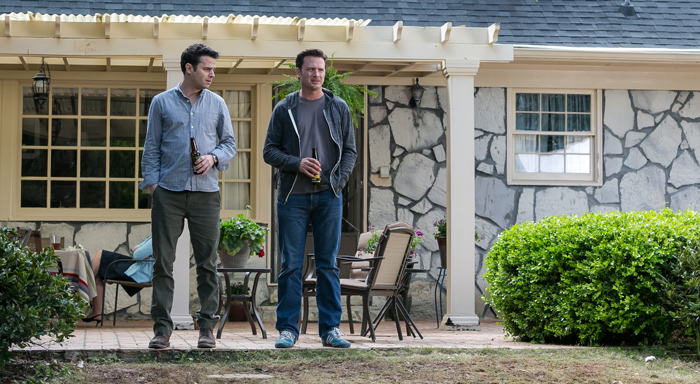 Daniel wakes up in George's trailer and finds that Trey has left without him. He starts biking back to Georgia.
Back home, Trey stumbles out of his car with dried vomit on his face.
Teddy skips breakfast at home due to a busy day ahead. Tawney praises his courage to start the rim business. After Teddy leaves, Tawney receives a collect call from Daniel.
Janet apologizes to Ted Sr. for being hard on him and thanks him for saving her and the house after Lester died. She expresses guilt for losing hope in Daniel while he was in prison.
Tawney picks Daniel up in Florida and admits she's never done anything so impulsive.
Amantha and Jon look for Daniel at home to discuss the plea deal.
On their way back to Georgia, Daniel tells Tawney he's not a good person. Tawney refuses to believe him.
Carl visits C.J., the sheriff who presided over Daniel's murder case. C.J. admits that he and Sen. Foulkes may have coerced Daniel's confession. He also reveals that he ignored a request from George to speak after the trial was over.
While waiting for Daniel, Jon tells Amantha and Janet that all bets are off with D.A. Person if they push back too hard on the plea deal.
Tawney drops Daniel off near Paulie. Daniel asks if she loves him. "I'm married," she replies. As he leaves, she declares that she can't do this again.
At home, Jon informs Daniel about the plea deal and estimates he can negotiate the term from 10 to five years. Amantha points out that Daniel would have to plead guilty. Daniel leaves the room to take a bath.
Daniel lies in the tub. In a death row flashback, Wendall accuses him of being afraid to live.
Daniel rejoins his family in the living room and rejects idea of doing any more time. Jon warns that the D.A. will probably kill the plea deal.
Tawney greets Teddy at home as she prepares dinner.
After dinner, Daniel privately asks Jon for a copy of his taped confession.
Ted Sr. tells Jared that Daniel is discussing a plea deal with Jon. Jared asks why Daniel would admit guilt if he didn't kill Hanna. "It's a way to move on," Ted Sr. explains.
Over dinner, Teddy inquires about Tawney's whereabouts that day. She claims she ran errands. Jared stops by with news about the plea deal. Upon hearing the news, Tawney excuses herself to lie down.
In the backyard, Teddy and Jared sit in front of a fire. Jared wonders if Bobby will hurt Daniel once he learns of the plea deal. "You're nothing like him," Teddy says. Jared clarifies that he's not worried about being like Daniel.
In the kitchen, Ted Sr. counsels Daniel on the plea deal, saying Janet would be very happy to have Daniel "in the free world, forever and always." He steps out to take a call from Sen. Foulkes, who asks to meet right away.
Jon leaves a voicemail for D.A. Person, rejecting the plea deal.
Jared hides in Bobby's yard and sees Bobby drunkenly sob in his mother's arms.
At the tire shop, Sen. Foulkes tells Ted Sr. about Daniel's assault on Teddy. Ted Sr. goes home and stares at Daniel's bedroom door.
Teddy sits alone in front of the fire while Tawney lies awake in bed.
In his room, Daniel arranges a homemade dummy on the floor while listening to his confession on headphones. He strangles the dummy then abruptly pulls back.
Need to catch up on RECTIFY? Find out where to stream, download or purchase Seasons 1-4.