6 Questions with "RECTIFY" Star J. Smith-Cameron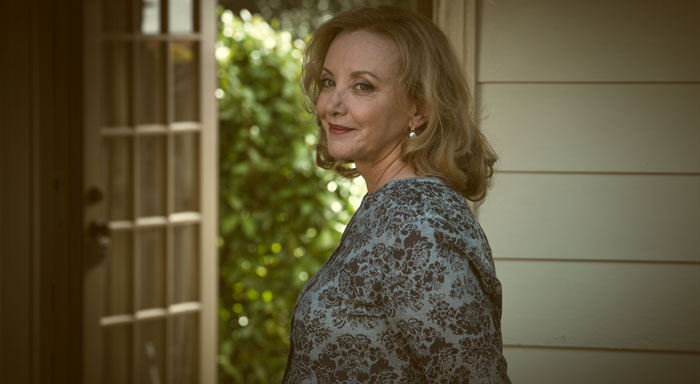 J. Smith-Cameron–who plays Daniel's mother, Janet Talbot, on RECTIFY–knows a thing about being a mom. And not just on-screen. Here she shares her insights about Janet's outfits, her mothering style and her own signature dish. (Hint: It's not pecan pie.)
Q: Janet always seems on the verge of breaking down or bursting into tears. How do you maintain that kind of emotional tension?
A: That's one of the challenges of the part. She does put a lot of energy into keeping it in, keeping that wall up, yet maintaining some kind of grace. She's got a lump in her throat at all times, it's her coping mechanism. This show is an actor's dream. The man who created it, Ray McKinnon, is an actor as well, and that's definitely written into the part.
Q: She has these very put-together outfits, and she often seems to be clutching her purse. Do those physical details help define the character for you?
A: Absolutely. There's a real sense of her being buttoned-up, self-conscious about appearances. She doesn't want to stand out. It's very hard to have any anonymity in that town, though she's constantly trying to. However I will say, I don't think this is too much of a spoiler, that in Season 2, Janet begins to let her hair down.
Q: You're a mother yourself. What do you think of Janet's mothering style?
A: Mothering style is an interesting concept. Before I had my daughter, Nellie, who's 12, I anticipated what it would be like based on what I was like or what my sister was like, but it's a constant improvisation. Janet's kids are all so different, and she's kind of a different mother with each one of them. I have a breezier style of parenting than Janet. She acts like she's from an earlier generation. She's ladylike and polite and gathered-up and private, though there's gravitas underneath it. She reminds me of my mother, not so much of contemporary women.

Q: If you had to cope with a loved one being in prison for two decades, do you think you would hold up better than Janet does?
A: If you're a parent, and I am, you always go about worrying. Not so much about prison, but about some life and death situation that you can't do anything about. Kidnapping, runaways, being a soldier and going missing. How do you think about something unthinkable coming of your offspring? It's more rare to be in Janet's position, but I do feel that's a universal fear that parents face, that their child will be in some extremis they can't protect them from. And if it turned out that your son was a murderer, would you still love him? She doesn't have the blind faith of Amantha (Abigail Spencer), but it's a different kind of strength, to live with that uncertainty.
Q: You've played a lot of moms (including in movies like The Rage: Carrie 2 and TV series like True Blood) and they're not always the most well-balanced characters. Where do you think Janet falls on the spectrum of stability?
A:Well, the mother in Carrie 2 is schizophrenic and insane, and in True Blood she's paranormal. [Laughs] Under the circumstance, Janet is carrying on very well. She and the whole family are permanently damaged because of the situation, but in some ways Janet is a pillar of strength.
Q: It seems like no matter what else is going on, Janet manages to have a fresh-baked pie or some other food and drink on hand. Do you have a signature dish or dessert?
A:I don't have Janet's baking skills. There are women who, when they're upset, go bake or clean out a closet. That's not me, but I do like to cook. I make spaghetti and clams, my husband's [Oscar-nominated screenwriter and director Kenneth Lonergan] favorite! But that's not as difficult as baking. Good bakers are like magicians.
Click here to read an interview with J. Smith-Cameron's co-star Abigail Spencer.
Need to catch up on RECTIFY? Find out where to stream, download or purchase Seasons 1-4.