6 Questions With "RECTIFY" Star Bruce McKinnon (Ted Talbot Sr.)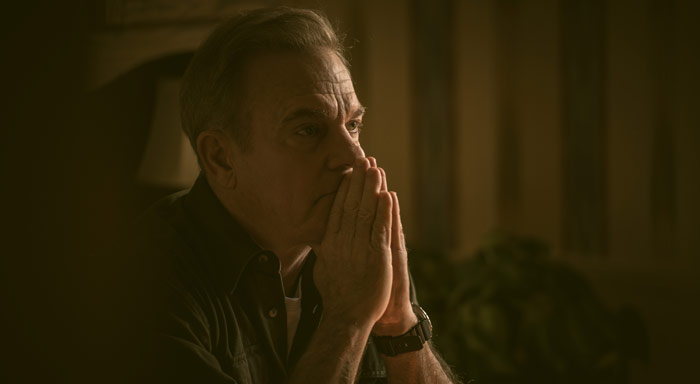 Bruce McKinnon, who plays Ted Talbot Sr. on RECTIFY, discusses Southern culture and his life before acting.
Q: To what degree is southern culture a character in the show?
A: I think it needs top billing. [Laughs] that's one thing that's wonderful about doing shows on location. To try and replicate that in some artificial way or film it somewhere else, I think to a certain extent can take away from the depth of the show… Even our background actors who are local add such a depth to it and they have a sense of the movement of the South… But, yes, it's high priority for our show. It's just the pacing and the To Kill a Mockingbird flavor.
Q: Ted Sr. is something of a strong, silent type, a caretaker. How do you view your character? Do you relate to him at all?
A: I hope I can emulate Ted Sr. in my real life. He seems like a fellow that really tries to do the right thing in every situation, like an "unconditional love" type [who] tries to understand where everybody is coming from. And he doesn't say flippant things. I'm not saying he's a big, serious, non-fun guy, but really he tries to look at the big picture. He's a forest instead of the trees kind of guy.
Q: I'm sure it's difficult to imagine what it would be like to be a stepdad to an ex-convict. What do you do to get in that headspace? How do you prepare?
A: Our show is about love. It sounds kind of strange to look at RECTIFY and how strange it is and everything, but I think the underlying current in this is love. And [my character] doesn't see convict on Daniel's forehead. Ted Sr. sees a guy who's been dragged through it, and who's trying to heal and is fractured, and a person who is my wife's son and he's my son. And I've known him since he was a little boy. I love him and I just want the best for him. And you know, I don't think he did it.

Q: You all shoot the business scenes at an actual tire store. Do you know a thing or two about tires now?
A: I've worked so many different manual labor jobs that could adapt to that. I asked the tire store that I use up in Tennessee and that my family uses if I could work and put them on, which I've put them on bicycles and lord knows I've changed flats, but they said there's a little bit of an insurance regulation with that. But what I've learned is the people, you know, the study of the people. The tire might be their passion or it might be just a way to make a buck, but it's watching the people back there that work there and how they relate to the customers and how they relate to each other, the relationships.
Q: What's the most unusual job you've had before getting into acting?
A: Wow, I've done so many different jobs to make ends meet and pursue my passion. I've worked on [everything from] oil rigs in the Gulf of Mexico, to dressing up as cartoon characters and tying balloons at kid's birthday parties in Los Angeles, to up in New York waiting tables like a lot of actors.
Q: Tell us about shooting the family barbecue scene, where much of the whole cast was together and you were at the grill. What's the key to conveying that sense of familiarity on screen?
A: A lot of us hang out together like a family. When we first came in to do the show, we were asked by Ray [McKinnon] who is our creator, to do something together as a family unit and so Abigail Spencer she took us all to a B-horror movie, so that was a little bit of bonding. It's beautiful because we have such an ensemble cast and we really honestly care about each other. So that's the foundation.
Click here to read an interview with Bruce McKinnon's co-star Abigail Spencer.
Need to catch up on RECTIFY? Find out where to stream, download or purchase Seasons 1-4.