Songs from "Rectify" Episode 207 (Weird As You)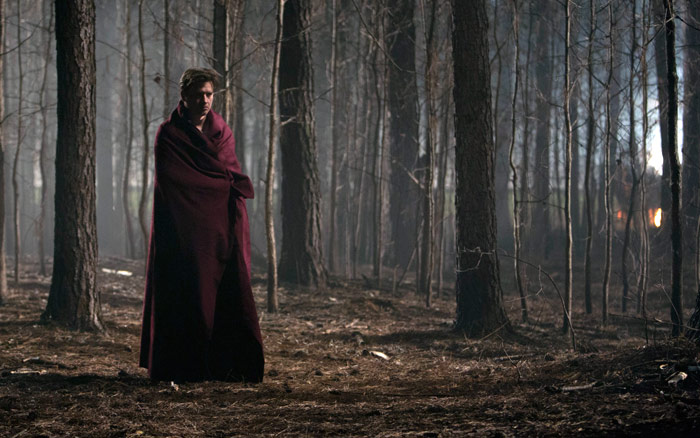 Though Gabriel Mann's original score provides the majority of RECTIFY's soundtrack, music supervisor Linda Cohen works alongside creator Ray McKinnon to pick just the right outside tracks for certain special moments. Here are the eight songs included in this week's episode:
Dorothy Squires – "Is That All There Is" 
This choral piece plays as Daniel experiences a vision of childhood friends turned witnesses for the prosecution, Trey and George, in the woods where Hanna was killed.
Hans Guenther Burnz – "High on My Heels"
Cheerful elevator music plays over the Thrifty Town speakers while Amantha deals with a difficult customer.
Hans Christian – "Entering the Mystery"
A moving cello composition underscores Jon's sorrow when the DA tells him Daniel will be offered a plea deal of time served plus ten years in
Various – "Dead and Gone"
Heavy metal wails as Trey breaks out George's supply of liquor and "melting pharmaceuticals."
Section 25 – "Knew Noise"
This post-punk track plays while Trey interrogates Daniel about his memories of the murder and relates a story about a relative who attacked a librarian.
Harold Budd – "Jane 5″
An unsettling ambient piece kicks in as Daniel asks Trey whether he killed Hanna and Trey implicates George.
Sleep ∞ Over - "Rooftop"
This ethereal song takes over as Trey tells Daniel he watched George have sex with Hanna.
Black Oak Arkansas – "When Electricity Came to Arkansas"
Energetic psychoboogie kicks in as Daniel bodyslams Trey into a wall and Trey tells devastated Daniel, "I know you. And now you know you. If you ever really forgot."
Want more music from RECTIFY? Check out the Pandora radio station.
Need to catch up on RECTIFY? Find out where to stream, download or purchase Seasons 1-4.