Songs from "Rectify" Episode 205 (Act As If)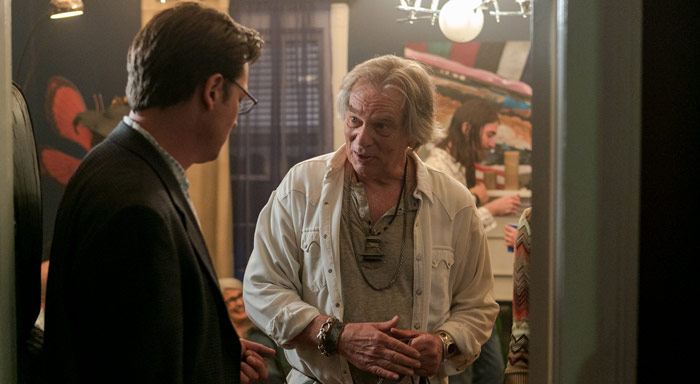 Though Gabriel Mann's original score provides the majority of RECTIFY's soundtrack, music supervisor Linda Cohen works alongside creator Ray McKinnon to pick some outside tracks to highlight certain moments. Here are the six songs included in this week's episode:
Drive-By Truckers – "First Air of Autumn" 
Daniel listens to this melancholy tune on the Ted's truck radio until he stops off at Lezley's shop on the way home from the lumberyard.
Pérez Prado – "Caballo Negro"
This lively mambo soundtracks Daniel's entrance to Lezley's party as he observes the misfits and eccentrics serving as guests.
Wanda Jackson – "Funnel of Love"
This classic rock 'n' roll single plays at Lezley's party as the host gives Daniel a Buddhism-tinged pep talk to join in on the fun.
Oil Boom – "Revolutions Per Minute"
This hard-rocking jam kicks in when Lezley and Daniel start blasting CDs in an impromptu skeet shooting session.
Drew Holcomb and the Neighbors – "The Wine We Drink"
This somber tune plays over the credits.
Want more music from RECTIFY? Check out the Pandora radio station, or more song lists from the episodes.
Need to catch up on RECTIFY? Find out where to stream, download or purchase Seasons 1-4.