"RECTIFY" Recap: Episode 5 (Act As If)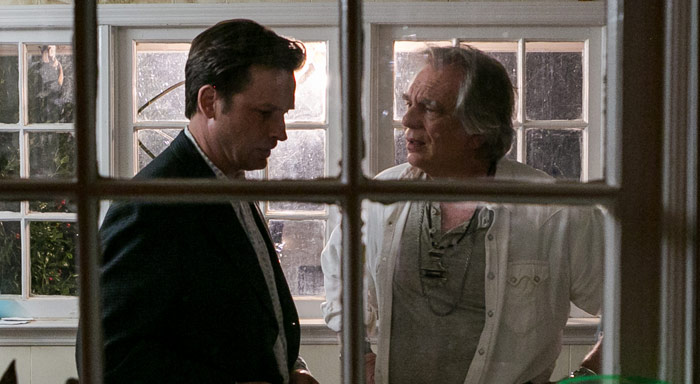 Ted Sr. looks for his mug and coffee maker amid the kitchen rubble. He sighs in frustration.
Janet comes home with Daniel, who just got his license. Ted Sr. lectures Daniel for destroying the kitchen and implements rules for the renovation. Janet stands up for Daniel.
At home, Teddy apologizes to Tawney for the way he's been acting. "You can't get so angry, Teddy, it'll consume you," she says. "Then it'll consume us."
At the store, Amantha awkwardly makes small talk with a customer. She has trouble processing the customer's payment and summons Wynn by first name on the PA. Wynn asks Amantha to refer to her as "manager" next time.
Ted Sr. finds Teddy setting up his tire rim display at the shop. Teddy tells him it's self-financed. "You put up your house," Ted Sr. realizes. Teddy reassures him it will be fine.
Daniel stops by an antique store for a new stove. Lezley, the owner, invites him to a party at his house, calling Daniel "the loneliest person I've ever seen."
Sen. Faulkes rebukes D.A. Person for considering a plea deal. She points out that their case against Daniel is weaker due to DNA evidence and, with George Milton's disappearance, a lack of key witnesses.
Daniel, Janet and Jared play a trivia game while renovating the kitchen. Amantha shows up to do laundry and mentions that Rutherford Gaines, Daniel's original lawyer, died.
Daniel goes to the garage to process the news.
Amantha tells Janet she got a job at Thrifty Town. Janet is stunned.
Janet joins Daniel in the garage. Daniel sees her bike and asks why she stopped riding. At Daniel's prodding, she reveals that she had an emotional breakdown on the day of her last ride, when she learned that Daniel had been granted another stay of execution.
Amantha finds Jon waiting for her outside her apartment. They hug.
Inside, Jon tells Amantha he got a job offer in Boston and asks if she would move there. She agrees to think about it. They go to the bedroom to make love.
Teddy hums as he brushes his teeth. In bed, Tawney tells him she'd like to go to college. She then reveals that her period is late. Teddy offers to buy a pregnancy test.
At home, Janet scolds Ted Sr. for treating Daniel harshly in his own home. Ted Sr. insists Daniel is a grown man and says that it's his home, too. "It was his home first," Janet says.
Daniel arrives at Lezley's hopping party but decides to leave. Lezley stops him and convinces him to give it an hour. "Act as if you belong here," Lezley says.
Lezley finds Daniel sitting alone and coaxes him into joining the party. "Any man reads a newspaper know that Dan-with-a-D Holden is overdue for a little excess," he reasons. He says half the girls at the party want to sleep with Daniel, while the other half are scared of him and still want to sleep with him.
A woman kisses Daniel on the couch and gives him cocaine, which Daniel snorts. Lezley stuffs pot in Daniel's pocket.
Outside, Lezley shoots CDs with a rifle then gives Daniel the rifle as the crowd chants Daniel's name. Daniel hesitantly takes the gun then sees something in the woods and freezes. Lezley snaps him out of his trance then tosses a CD in the air. Daniel shoots it and stares into the dark sky.
Nearby, Trey pokes around the river at the site where Hanna was killed and where George committed suicide.
Need to catch up on RECTIFY? Find out where to stream, download or purchase Seasons 1-4.