6 questions with "RECTIFY" star Jayson Warner Smith (Wendall Jelks)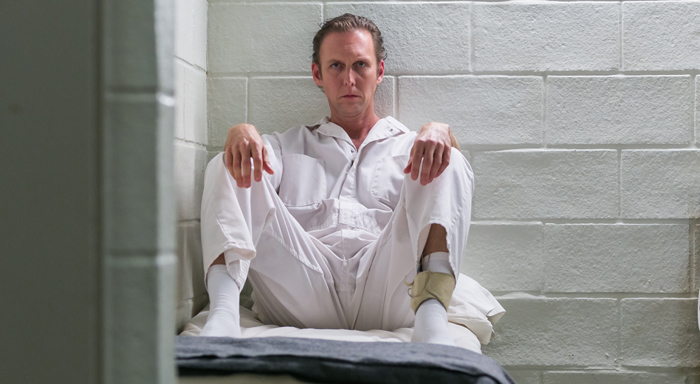 Jayson Warner Smith, who plays Wendall Jelks on RECTIFY, talks about playing the bad guy and how he gets inside the mind of a sociopath.
Q: Wendall Jelks is back for Season 2. When did you find out that you'd be returning and what was your reaction?
A: I found out about a month before shooting started, and then I would say about a week before I actually shot, I was officially booked. I was definitely on pins and needles and all my friends were like, "There's no way he's not going to be back. Wendalls' gotta be back!" But you never know. It's all in [Creator Ray McKinnon]'s hands. Luckily, I was invited back, and I was very thrilled of course.
Q: You've played a lot of lawyers, doctors, and cops, and you actually auditioned first for The Sheriff on RECTIFY. What drew you to Wendall, a sociopathic felon?
A: I knew the role of Wendall was in the script. I'd seen it, and I called my agent and said, "Why am I not reading for this role?" And she said, "We don't really see you in this role and casting doesn't really see you in this role." And I said, "I can do this, I want to read for this role." And then I taped myself at home and sent it in and the next day, I got a call that said Ray wants to see you in Griffin on Saturday, which is two days from now. And I was like, okay, great, fantastic. And then a few days later I had the part.
Q: So it sounds like you knew you had Wendall somewhere in you?
A: I just knew that I could play something different than these nice guys, really. And it's interesting, when Ray called me, he also sent me an email and said your audition is fine, Jayson, it's very chilling, especially the look in your eye at the end of the whole thing when you aren't saying anything. It was just this emptiness, and that's what Ray was going for, and that's what got me the call back.

Q: We haven't learned what Wendall is in jail for. Has Ray let you in on it?
A: There was this really just cool, just awful scene in the original pilot. The original pilot end up getting re-edited and the scene that I auditioned with got cut because it didn't fit the timeline anymore. In that scene, Wendall is causing a ruckus and he's got everybody on Death Row screaming and hollering and somebody yelled "Shut up, you cho-mo punk," which I didn't really know what that meant, and I had to ask Ray who told me it's prison slang for child molester.
Q: What does it take to get in the mind frame to play Wendall? Is it hard to shake off after the camera stops rolling?
A: It does follow you home. You have to go to places in your mind that normally get tamped down, the things that, as a human being, you think that that lizard brain is buried down inside there. It's there in all of us, and what makes us civilized is the ability to keep that at bay. To say, I shouldn't kill this person. But with Wendall, that filter is gone, so it's exciting as an actor to play this role because I am allowed when the camera is turned on to go to that place in a safe space where I'm not hurting anyone.
Q: You also play guitar. Do you take your guitar with you to set? Do you ever play for your cast mates?
A: I took my guitar with set with me a few times this season. Actually, Aden Young married his long-time partner Loene Carmen, who is a musician singer-songwriter, in Zebulon, Georgia. We all went to the party and the wedding and afterward, Loene's father is a musician from Australia and he played, and then we all took turns getting up and singing and playing a couple of songs. So, yeah, that night I did just one song. And I had a lot of fun. Jake Austin Walker (Jared Talbot) could be a pop star. He got up and sang for a while. Adelaide Clemens (Tawney Talbot) sings like a chanteuse. Abigail Spencer (Amantha Holden) also sings. And actually one of the Sundance producers said to us, "I'm seeing RECTIFY the Musical." [Laughs]
Click here to read an interview with Jayson Warner Smith's co-star Aden Young.
Need to catch up on RECTIFY? Find out where to stream, download or purchase Seasons 1-4.