6 Questions with "RECTIFY" Star Jake Austin Walker (Jared Talbot)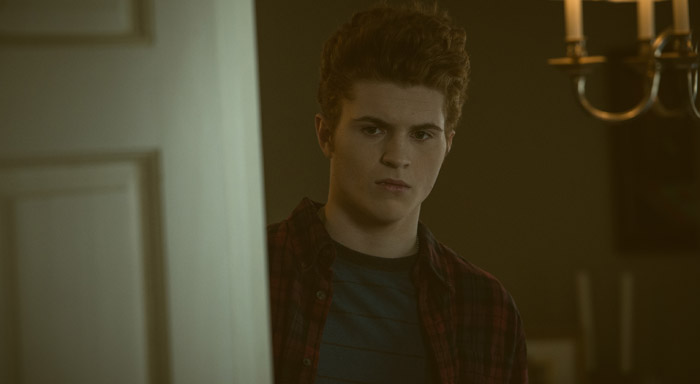 Jake Austin Walker, who plays Daniel's spunky, sympathetic younger half-brother Jared Talbot, talks about the family dynamics on the show (and behind the scenes), his own experience with bullying and when we can hear his next single (he's really good!).
Q: Jared's fascination with his half-brother's case is touching, but it also freaks out Daniel (Aden Young). Did you really have a file of information about the case that you studied?
A: Oh, yeah. On the day that Aden shot that scene, they asked me about the folder and what I wanted in it. It's real. Jared researched it, like a comic book or a movie he just can't get enough of. Personally, I think he raided the basement of their house and got all the old newspaper clippings from the case that his mother had hidden away.
Q: Does having siblings in real life help you tap into the dynamics with your half-siblings on Rectify?
A: No doubt. I've got a 12-year-old sister, so it's easy to fall into that dorky brother-sister relationship with Amantha (Abigail Spencer). I also have a 24-year-old brother, which definitely helped with both Daniel and Ted Jr. (Clayne Crawford). I always wanted acceptance from my brother, and I was always so curious about whatever he was doing. I wanted to be my brother, he was just kind of like my idol.
Q: One of the sweetest moments in the first season comes when Daniel hangs out with Jared and his friends while they're skateboarding and biking. Are you a fan of those sports?
A: I'm a country boy at heart, and riding bikes is totally natural. I'm more of a biker than I am a skateboarder. Actually, before we shot that scene, they gave me about four days to learn how to ride a skateboard. I went to a skate park and just practiced and practiced and practiced. When it came time, we had people doing amazing tricks and I'm just trying really hard not to fall on my face.
Q: Is it strange playing the more experienced or "older" sibling to Daniel, even though he's actually decades older than Jared?
A: I definitely feel that. Jared and Daniel are like a balancing scale. What information Jared gives to Daniel, Daniel returns in different ways. Jared helps Daniel with the modern world, and he takes me to the past for things he used to do, where he came from.
Q: Jared tries to pretend the threatening texts he's been getting don't bother him—have you ever had to go into that protective, older-than-your-years mode?
A: I've actually been in a very similar situation myself. I used to get bullied a lot in school because of my physique—, I was a little chubby. I wouldn't tell my parents because I didn't want to give them another problem to deal with. Kids can be very, very mean, and it's a product of their parents, too. Jared is just trying to keep everyone happy. He's trying to be the strong one as everyone is falling apart. He's just trying to keep a smile on his face.
Q: Are you still singing? Any chance we'll hear more of your singles on YouTube (or elsewhere) soon?
A: I was actually thinking about focusing on it while we're on hiatus from Season 2, recording some stuff. I recently had my very first gig ever, a bunch of people from the cast played and sang. Definitely look for a few songs in the future.
Click here to read an interview with Jake Austin Walker's co-star Clayne Crawford.
Need to catch up on RECTIFY? Find out where to stream, download or purchase Seasons 1-4.