6 Questions With "RECTIFY" Star Clayne Crawford (Ted Talbot Jr.)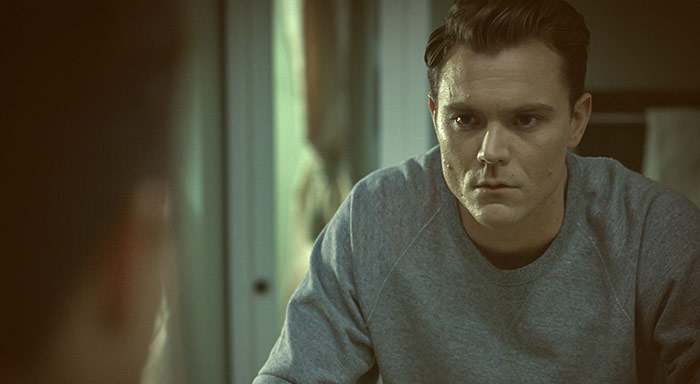 Clayne Crawford, who plays Ted Talbot Jr. on RECTIFY, discusses his theory about how Ted and Tawney met, his directorial aspirations and life on his 50-acre farm.
Q: Some fans see Teddy as the bad guy on RECTIFY. How do you seem him?
A: I see Teddy as a guy who never really had a true family unit—knowing that he came into the Talbot family around 10 or 11 and was never truly accepted by his sister and had that looming cloud hanging over the family's head with Daniel being incarcerated. And then my little brother Jared was born not too far after, so I think Teddy is a guy craving attention and love.
Q: Teddy is very devoted to Tawney. What has the writer told you about their back story and how they met?
A: They haven't, so Adelaide and I have kind of built up that possibly she was in high school or maybe I had graduated high school but we went to the same school. Tawney grew up in a foster family, so they kind of came from the same place of needing someone to love and needing someone to love them. I think it was a perfect storm of being young and Teddy was obviously was a fun kind of guy… through all the stuff that we see of him, you can still see that he's the kind of guy that you would enjoy having at a party, right? Get a couple of beers in him and he's obviously the fun guy.
Q: Teddy is concerned for his family's future. What advice would you give him? What would you do if you were in his shoes?
A: The most difficult thing is you have to cut off a portion of your brain playing this guy. Where do you start with Teddy? I have no idea what I would say to this poor guy. I would say, "Just don't say anything," but that's not going to happen. How do you tell someone to create a filter between his brain and his mouth? [Laughs]
Q: Teddy's relationship with Daniel is particularly tense. What's your relationship with Aden like?
A: Usually the characters that despise each other on camera are the best of buddies off and vice versa, because I hate Adelaide Clemens. [Laughs] Aden is from Australia, which is very similar to the South, in that men have to be men and women are women and you can't be sensitive and you can't show emotion. We've both found our way into this business which is all based on emotion and being able to share it with others. And him being a father. We have too much in common, and we enjoy what we do so much and we put so much into it, so it's just a good relationship. And he's just a really good man.
Q: When you're not on-set, you're working on your farm. What kind of work do you do on the farm?
A: I lived in New York and L.A. for 16 years, and my wife and I were starting communal gardens in the Echo Park/Silver Lake area and we have three children of our own now. We were just kind of at a point where we were like, "What are we doing, why don't we kind of go do this full time?" So we packed up and bought 50 acres, quite a few head of cattle and chickens and we started gardening full-time. We grow everything from zucchini to corn, and I supply my family with eggs and veggies. It's so rewarding to be here and teach my children that the earth is so special and it gives us everything we need. It's completely changed my career. After being here six months, I booked RECTIFY. It's almost like the universe guided me here because now I'm a three-hour drive from set.
Q: You've actually got a number of directorial credits. Can you imagine directing an episode of RECTIFY in a future season?
A: The idea on paper sounds so incredible because I love directing. But directing RECTIFY, it's touchy man… You're coming into a world where Paul Sommers has the look set, Ray McKinnon knows the trajectory of each character, and we as cast know who we are so intimately that it's difficult for someone to come in and do anything. I would love to direct it, but I would probably be just sitting at the monitor waving at everyone saying "great job."
Click here to read an interview with Clayne Crawford's co-star Aden Young.
Need to catch up on RECTIFY? Find out where to stream, download or purchase Seasons 1-4.