Songs from "Rectify" Episode 202 (Sleeping Giants)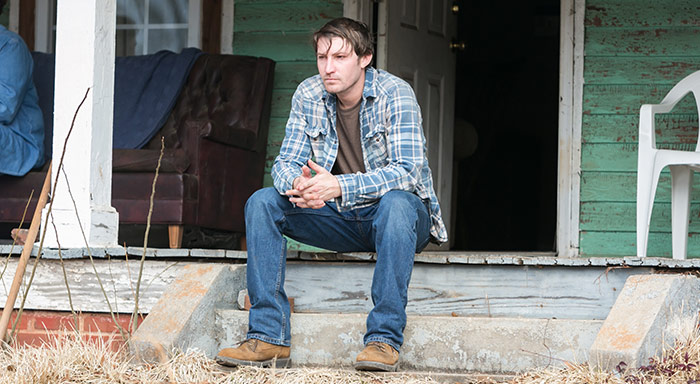 Though Gabriel Mann's original score provides the majority of RECTIFY's soundtrack, music supervisor Linda Cohen works alongside creator Ray McKinnon to pick just the right outside tracks for certain special moments. Here are the five songs included in this week's episode:
Hans Christian – "Inside Chartres Cathedral No. 3″
This neoclassical piece energizes the scene when a pamphlet outlining approved prisoner behavior causes Daniel to snap and destroy his cell while his sadistic fellow inmate cheers him on.
Mazzy Star – "Into Dust"
The downbeat '90s alt rock single becomes a tragic plot point when Jared listens to it on the mixtape victim Hanna made for Daniel, last heard in the attic in Season One.
Drive-By Truckers – "Shit Shots Count"
This alt-country tune blares from the roadside bar Bobby Dean stumbles out of before his buddies from the graveyard appear to keep him in line.
The Murder of Crows – "When We Were Young"
A soft instrumental composition scores scenes of Daniel waking from his coma to reunite with his family and Bobby Dean's arrest.
Sun Kil Moon – "That Bird Has a Broken Wing"
The bleak acoustic indie folk tune plays over the credits.
Want more music from RECTIFY? Check out the Pandora radio station.
Need to catch up on RECTIFY? Find out where to stream, download or purchase Seasons 1-4.