"RECTIFY" Recap: Episode 2 (Sleeping Giants)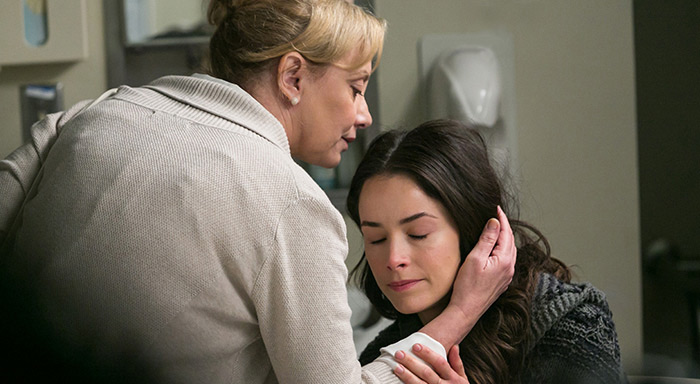 In a death row flashback, Daniel receives a brochure of DOC mental illness guidelines. He angrily recites "proper prisoner behavior" as he hurls and shreds his books.
In Daniel's hospital room, Janet remarks how friendly the hospital staff is. Amantha reminds her they're not in Paulie, where everyone wants Daniel dead.
At the Talbot residence, Teddy proposes a plan to increase the tire shop's declining revenue by renting out tire rims. Ted Sr. balks at the upfront investment costs. Teddy then brings up the elephant in the room: What will they do if Daniel becomes a vegetable?
In his room, Jared listens to Daniel's birthday mixtape on headphones. He replays Hanna's message, "I love you, Daniel." Teddy interrupts to announce dinner is ready. Sensing Jared's kinship with Daniel, Teddy divulges that Ted Sr. saved the tire shop after Daniel's reputation drove it into the ground.
At a Life Group meeting, Tawney's friend Kate commends Tawney for loving Daniel "like Jesus would." Kate admits to judging Daniel but acknowledges that she doesn't even know him.
Tawney visits Teddy at the tire shop, where he's working late, and asks him to come home. He angrily explains that he's working on an important business proposal and frets that Daniel's condition is worrying Ted Sr. to death. Tawney leaves him alone.
At the hospital, a doctor tells Amantha and Janet that they're ready to wake Daniel from the coma.
Bobby drunkenly stumbles out of a bar. Jake corners him and yells at him for endangering their anonymity during Daniel's attack by removing his mask. He orders Bobby to get his act together.
Carl asks Debbie Wages if he can interview her son, Stevie, who witnessed Daniel's attack. She refuses.
Jon visits Hollis, a client who's about to be executed after DNA proved him guilty. Jon offers to stay with Hollis for his last meal.
At home, Tawney admits to Teddy that Daniel had wanted to kiss her and that she had feelings for Daniel. "Will you forgive me?" she asks. Teddy kisses her on the cheek but leaves without answering.
Trey visits Mr. Milton, George's father, to ask if he's heard from George. Mr. Milton says they haven't spoken since he called George "a queer" a couple of years ago.
On the phone with Amantha, Jon says Hollis conned him into believing he was innocent. "You wanted to help a man, Jon, there's no fault in that,"  Amantha says. "I love you," they reveal to each other.
At the station, Stevie examines a group of mug shots and identifies Bobby as Daniel's assailant. Carl thanks Debbie for allowing him to question Stevie.
Guards escort Daniel back to his death row cell. Wendall taunts Daniel and screams at him to wake up.
At the hospital, Daniel's eyes flutter open as he awakes. Janet runs in and Amantha cries for joy.
Carl arrests Bobby at his house.
Ted Sr. calls Tawney with the good news. She tells Teddy, who's hiding out in the bathroom, pretending to use the toilet. He flushes and says nothing.
Need to catch up on RECTIFY? Find out where to stream, download or purchase Seasons 1-4.