"RECTIFY" Recap: Episode 1 (Running with the Bull)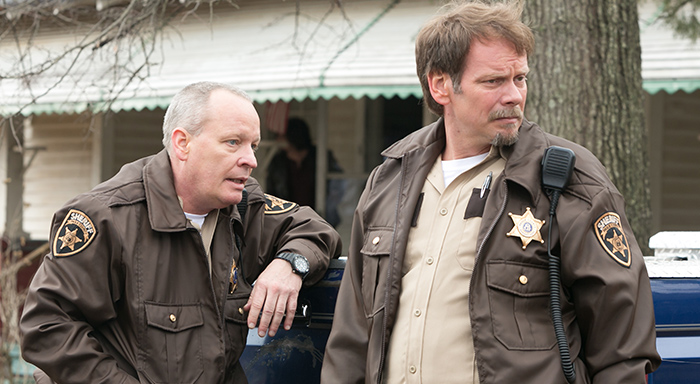 Daniel is visited by the ghost of Kerwin, who tells Daniel to wake up.
At an Atlanta hospital, Amantha and Janet panic as Daniel struggles to emerge from an induced coma. Nurses rush in to put him back into the coma.
While at the scene of Daniel's attack, Lid tells Carl that a witness saw a blue truck leave the cemetery. Carl insists on finding the attackers despite Lid's warning that it will hurt his reelection chances.
In the hospital waiting room, Tawney asks Amantha and Janet about Daniel's condition. She tearfully wonders why God would do this to him.
At the police station, Sen. Foulkes tells Carl that the attack against Daniel might complicate their case against his exoneration. Carl warns Sen. Foulkes that he plans to track down the attackers.
Bobby Dean arrives home to find Judy Dean watching a news report of Daniel's attack. "I love you, baby," she says.
Tawney visits Daniel's hospital room, where Janet asks Tawney to pray for Daniel. Noting Daniel's affinity for Tawney, she reminds her that Teddy loves her more than anything in the world.
During a flashback to death row, Wendall bangs on the wall to wake Daniel, who has fallen into a depression since Kerwin's execution. Wendall disrobes and tells Daniel that he was one of the men who raped Daniel in the shower, and continues to masturbate as Daniel screams.
At the tire shop, Ted Sr. tells Teddy that Janet is upset that he hasn't visited Daniel and orders Teddy to pay a visit.
Carl stops by the shop to speak with Ted Sr. Teddy inquires about a tire bid, but Carl says they lost out because of Daniel's association with the shop.
In Daniel's hospital room, Amantha opens the present that Daniel left in her car before the attack: It's the ceramic mechanic from the tire shop. A nurse announces a visitor.
Amantha finds Melvin in the waiting room. He gives her a chocolate turtle for Daniel and tells her she's too smart to live in Paulie.
Carl and Lid visit Jake Johnson, Bobby's friend and owner of a blue truck. Carl claims a witness saw Jake and Bobby leave the cemetery. Jake says nothing.
Lid photographs Jake's truck and deduces that Jake saw through Carl's bluff about the witness testimony. Carl asks Lid if he interviewed the boys who had been at the crime scene, and Lid says their mothers wouldn't permit it.
Trey enters his shed and opens a locked metal box. Inside is George's wallet, pistol and cell phone.
At home, Teddy examines the area of his neck where Daniel choked him. Tawney catches him inspecting his neck and asks him to hold her. He briefly embraces her then leaves for the hospital.
Flashing back to death row, Daniel refuses to leave his cell. Guards storm the cell and force him into handcuffs.
Teddy reluctantly visits Daniel at the hospital and spots the ceramic mechanic on a table. He grips it tightly while glaring at Daniel. Amantha catches him mid-glare and they share an icy exchange.
Daniel tells Kerwin he got off death row but admits his first week of freedom has been difficult. "Everything out here is just so complicated," Daniel says. "There's so much pain and hate." Kerwin, overjoyed at Daniel's release, encourages Daniel to appreciate his new life.
Need to catch up on RECTIFY? Find out where to stream, download or purchase Seasons 1-4.