Rave Reviews for the "Brilliant" Second Season of "Rectify"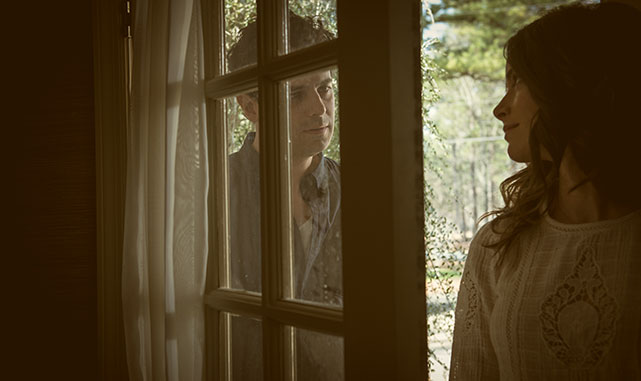 RECTIFY's upcoming second season wins praise from Indiewire as "unique in its subject matter, tone, and visual splendor," while The A.V. Club says the season premiere contains "one of the most beautiful sequences to be seen on television in this or any year." See what everyone is talking about, watch the first 12 minutes of RECTIFY Season 2 on Buzzfeed now.
Read on for more:
•Indiewire raves about Season 2, profiling "its astounding, contemplative journey."
•The A.V. Club reviews the first three episodes of the season, says the series "reawakens viewers to the wonders all around them."
•HitFix's Alan Sepinwall says RECTIFY's new season is better than ever, writing, "There is nothing else on television quite like it."
•The Los Angeles Times interviews series creator Ray McKinnon and SundanceTV president Sarah Barnett on the show's inspiration.
•NPR talks about creating the series with Ray McKinnon as well as stars Aden Young and Abigail Spencer.
•The Hollywood Reporter praises Season 2 as a "strangely engrossing, slowly unfolding tale of one man's journey."
•The Wrap marvels that the "brilliantly nuanced, exquisitely acted drama" becomes even more contemplative in its second season.
•The Daily Beast urges the uninitiated to "stop everything and go watch RECTIFY", calling the series "to drama what Louie is to comedy—an emotional marathon unlike anything on TV."
•Variety catches up with the cast as they celebrate the Season 2 premiere at the Chateau Marmont. Castmembers praise Ray McKinnon as "a genius filmmaker" and an inspiring presence.
•Grantland reviews "the excellent" Season 2, calling it "unlike anything else on TV."
•Digital Spy raves "look[ing] forward to spending the rest of [the] summer watching it unfold at its own masterfully measured pace."
•The Examiner talks Season 2 with star Abigail Spencer and producer Mark Johnson.
•Fast Company talks to Ray McKinnon about getting his singular vision on the air.
•Assignment X profiles Season 2 with Ray McKinnon, who promises "more of the same and more of the different."
•Up and Comers calls the season "another must-watch."
•The New York Daily News highlights the return of "the moodiest, most mysterious series around."
•The Boston Globe calls RECTIFY "as mesmerizing as ever."
•News Observer highlights the return of the "often overlooked but stunning drama."
•The San Jose Mercury News reviews Season 2, raving about Aden Young as "again in Emmy-caliber form."
•The South Bend Tribune praises RECTIFY's serious treatment of religious subjects, writing that the series has "crafted a universe of small but fully defined characters."
•TV Guide tells viewers to binge-watch Season 1 in preparation for the second season premiere.
Need to catch up on RECTIFY? Find out where to stream, download or purchase Seasons 1-4.