6 Questions With "Rectify" Star Johnny Ray Gill (Kerwin)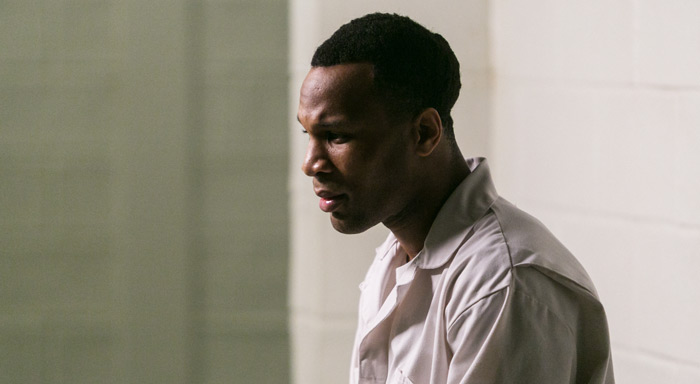 Johnny Ray Gill, who plays Kerwin Whitman on RECTIFY, talks about his emotional scene with Aden Young, the challenges of shooting in a jail cell and tapping into your nerdy side.
Q: Kerwin and Daniel become close friends in prison. Is it weird when your costar is on the other side of a wall?
A: Yeah, it can be. You have a camera right up against your face and then you have a wall that's right up next to you, so you really get an idea of how restrictive it is to live in one of these rooms and how few places there are to go. I almost found myself sectioning off the room, saying okay this is the living room, this is the dining room, this is where he reads his books, this is where he goes to recess and all these other things. But it can be claustrophobic until they move the walls and say "take five." [Laughs]
Q: You were a very studious kid who grew up in Portland, Oregon. What did you do to tap into the mindset of a convict? What kind of research did you do to prepare for the role?
A: I was studious but I was a bit of a thrill seeker. Nerds are sexy to be honest, man. You've got to tap into your nerd side. I read a little Lord of the Rings here and there. But as far as research, but I didn't do much research honestly because as an African American man, I am always under the threat of the criminal justice system and the prison industrial complex. It preys on it, it eats us for lunch. We are its dinner, its main course. For example, black men are incarcerated at roughly six times the rate of whites and if the current incarceration trends continue, one in every three black males born today can expect to go to prison at some point in their life.
Q: There's something so positive about Kerwin. Do you think if you were in his situation, you could have the same grace? Where do you think the character gets his strength?
A: It's a tough question because it's really about your spirit's grit and your ability to persevere under dire circumstances, and I think the most gracious answer would be to say "I don't know." I don't think anyone knows how they would deal with those circumstances, but I would try, and I hope I would fight and I hope I have that type spirit. And I think Kerwin gets his spirits from his ancestors, as so many of them have been caged and left to rot.

Q: Kerwin reads a lot on Death Row, from Shakespeare to MLK. If you had to send him a care package of books, what would you send him?
A: Let me look at my bookcase. [Laughs] I would definitely send him Animorphs by K.A. Applegate, The Five People You Meet in Heaven, Letters to a Young Poet, and Things Fall Apart by Chinua Achebe, and I would make sure that I slip in several issues of Black Men magazine. You said that it would be a care package and this care package would take care of his mind, his soul, and his body, if you know what I mean.
Q: Kerwin yells some pretty good one-liners at Wendall Jelks, the jerk in the cell next to you guys. Is it hard not to laugh during those lines?
A: In the scenes, Wendall Jelks is an asshole, so when I'm in that frame of mind I either get really pissed off or he makes me feel absolutely terrible. But reading the scripts before I'm in actor mode, it's definitely pretty funny. I'm like, wow, this guy is really going crazy now and saying some pretty wild stuff. We had this game growing up called "stinging on each other," where you would make fun of people backwards and forward, and this is the extreme version of that.
Q: The scene where you're taken off to be executed and you say goodbye to Daniel was intense. Was it emotional to shoot?
A: It was one of the hardest things I've ever had to do as an actor and as a performer. With film, you're constantly shooting the same scene over and over again all day. Having to hang on to all of that sorrow all day was incredibly painful. Every time Daniel's face would appear in that little bitty window, I would almost lose it—every time. But Kerwin needed to be strong in that moment so that he could deliver a message so that Daniel would hopefully keep on keeping on.
Need to catch up on RECTIFY? Find out where to stream, download or purchase Seasons 1-4.