6 Questions with "RECTIFY" Star J.D. Evermore (Sheriff Carl Daggett)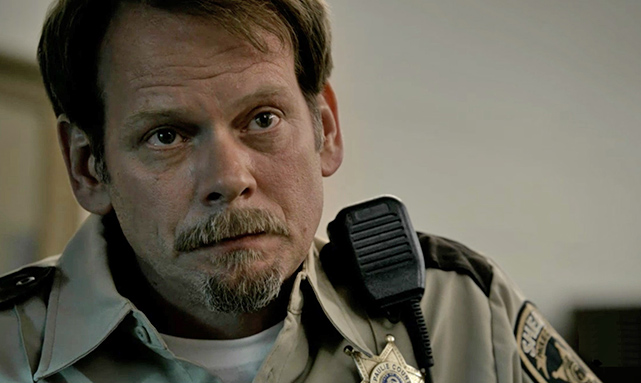 Charming and forthright, J.D. Evermore is not much like his reticent RECTIFY character, Sheriff Carl Daggett. But he does have a lot of interesting things to say about family, whether or not he thinks Daniel's guilty (and of what) and a scene with Arnold Schwarzenegger he'll never forget.
Q: Between takes, does the cast ever discuss whether they think Daniel (Aden Young) is actually guilty or not and if so, of what exactly?
A: I can't speak for all the cast, but yes, it's been brought up a couple of times. Most of us think that he's probably guilty of something, we just don't know what. I keep going back and forth. With one script, I think my character thinks he's guilty and the next I think he thinks he's not.
Q: You've played lawmen on shows ranging from Treme to True Detective–and of course on RECTIFY. If you weren't an actor, any chance you'd be a cop?
A: Absolutely not. No. It's kind of funny: I spent most of my younger days avoiding cops. I think I got five speeding tickets the first year of having a car. But I do seem to play a lot of cops—I think some of my friends are starting to get nervous around me. I don't envy their jobs; it's really tough. I applaud it.
Q: Do you have a backstory—in your head, if not in the script—for your relationship with everyone in Paulie?
A: I've worked out little scenarios, but I tweak them from time to time when I get a script. Back when the crime [that Daniel was incarcerated for] happened, 19 or 20 years ago, my father [Johnny Daggett, played by Sonny Shroyer] was the mayor of the town and I was a young deputy; present day, my father's still the mayor and I'm the sheriff. So everyone knows me, though I may not know them.
Q: Carl has a couple of tense run-ins with Daniel's sister, Amantha (Abigail Spencer). You're the oldest of seven siblings yourself. Can you relate to Amantha's instinct to protect her brother?
A: Blood is thicker than water. I've stuck up for my younger brothers and sister; I've gotten upset about circumstances happening to them. For Amantha, the crime happened at an impressionable time in her life. He was her only sibling at the time [half-brother Jared was born later]; that was everything she had. She made it her mission to rectify the situation, so to speak, and I think that's why she stuck with him for all these years—it affected her life as well.
Q: Amantha accuses Carl of being part of a "lynch mob." Do you think that being a cop and being a criminal are sort of two sides of the same coin?
A: He is a cop but he is also part of the mob—the mob made him what he is. I can't blame her for seeing me as the enemy, but I think my character is not on anyone's side… he's just trying to do the right thing.
Q: First you were Harley on The Walking Dead. Next, you'll be Holt in the soon-to-be-released Arnold Schwarzenegger-Abigail Breslin zombie movie Maggie… Do you have a thing for zombies?
A: Honestly, it just happened that way. I just like to work. But I will say that Arnold Schwarzenegger is quite a guy; getting to fight the Terminator was an honor! I told him I don't necessarily agree with everything he says, but I'm a big fan of everything that he's accomplished in his life. We have a big fight scene, and he got a really good knee into my crotch; I think it was just an accident, but I kind of wondered if it was because I'm not a Republican.
Need to catch up on RECTIFY? Find out where to stream, download or purchase Seasons 1-4.