6 Questions with "Rectify" star Aden Young (Daniel Holden)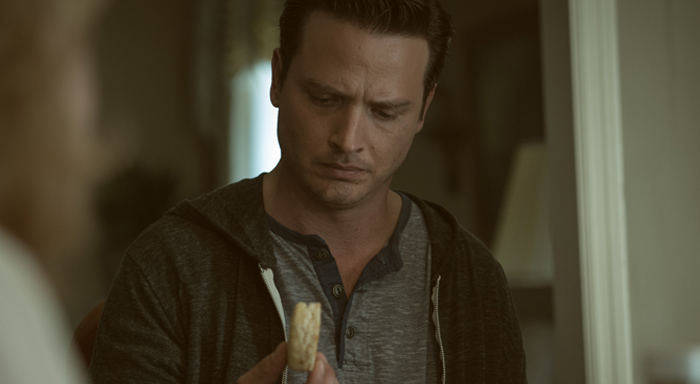 Aden Young, who plays Daniel Holden on RECTIFY, talks about the complexities of his character, the most unusual scene he shot in Season 1, his own teenage hobbies (hint: it's not BMX riding), and working opposite Clayne Crawford (Ted Jr.).
Q: You grew up in Australia. Are there any similarities between Australian culture and Southern culture?
A: I was born in Canada and my father is from Missouri and my mother is from Australia—when I was about 9 we moved out to Australia. But there always was within me this mystery land where my father was from that I wanted to explore, and that was especially true when he passed away. It was perfect for me to come to play a Southerner in his hometown, but a Southerner who has, of course, been locked away from that town for many years. So what was being revealed to me as an Australian was similar in the experience that Daniel might have had in coming out of prison.
Q: It must be a mixed bag getting recognized from the show. Do fans expect you to be as eccentric as Daniel?
A: When the show began really screening, you felt the difference in how many people it was accessible to and who'd seen the show, especially here [in Griffin]. You'd go to a supermarket and there would be a few people following me around, and they do have a look as if they're expecting you to stand still for twenty minutes staring at a protein bar. But Daniel is certainly someone that more people identify with in terms of this man that's lost so much in his life and the future is just this very big question mark for him. And I think in any small town you'll find a lot of people who have that similar quandary.
Q: Is it fun to sort of relive being a teen on the show—getting to ride BMX bikes and play video games? What were your favorite hobbies as a teen?
A: It is always fun to explore who somebody is, especially when that experience is locked away in a time capsule. It certainly made me reflect on my own. I thought, "I cannot believe I actually bought a white suit and wanted to look like Don Johnson." We talked about it for Season 2. Obviously, now Daniel is coming back into the world, I guess he's going to be looking for a style. I don't know what it was like for anyone else, but at least for me, that style was ever-evolving. It was changing. I was exploring my own personality and my own identity. One week I'd be a cop in Miami, and the next I'd be a grunge singer from Seattle, and then I'd be a bohemian from Prague. All of those things were combining to make me a very bad, bad dresser.
Q: Daniel has so many surrealistic scenes—wrestling the goat farmer, the Baptism, plucking the feathers out of a pillow while naked. Which one was the most unusual to shoot and why?
A: Certainly wrestling with the goat man in the pecan grove was unusual. We didn't receive that script until two nights before we were supposed to shoot that episode, and what happened was that for the whole length of the shoot leading up to that period, Ray [McKinnon, creator] would occasionally ask me, "Do you wrestle?" I had no idea what he meant, which just made it stranger and stranger. But all the chips fell into place after I saw that scene. But I still don't know what to make of all that.
Q: What's it like working with Clayne, your on-screen antagonist?
A: I have such admiration for his work. He's a wonderful fellow and he's a multifaceted, unique personality and he approaches Teddy the same way of "why should a character be two-dimensional when he first reads that way?" And the beauty of watching him work is he's got so many different levels to play—even though he's very much the Southern alpha male, he's a joy to watch. You really have to be on your toes working with him.
Q: Rectify wrestles with the nature of reality and the existence of time. Do you and Ray muse over the show's philosophical questions? Have you read any of Daniel's prison books?
A: If there was time, I would scoot away and read as much as I could. It's a really wonderful opportunity working with Ray because it isn't always just "you need to say it like this and you need to stand here," it's very much about "well, what is the premise of being and what is there to life." You've got a deadline, you've got to shoot the scene, but you're combating the question of "I think, therefore I am," and "who are we, who am I?
Need to catch up on RECTIFY? Find out where to stream, download or purchase Seasons 1-4.