6 Questions With "RECTIFY" Star Adelaide Clemens (Tawney Talbot)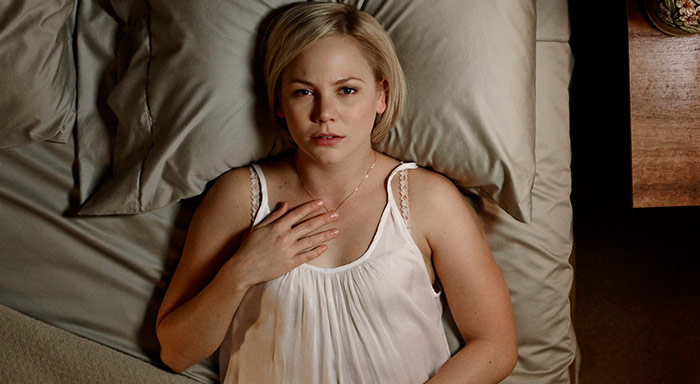 RECTIFY's Adelaide Clemens (Tawney Talbot) talks about how she relates to Tawney and trusting people before judging them.
Q: Are there aspects of Tawney that personally you relate to?
A: There are so many traits of Tawney that are very similar [to me]. I think she had to think for herself a lot in her childhood and also find community. She grew up as a foster child, so the church is literally a source of stability and a community and something to latch onto. Just personally, from moving around a lot, wherever community is offered, I'll take it.
Q: You've played characters with a darker side in movies like Generation Um… and The Great Gatsby. Has it been fun to play a less jaded character?
A: Yeah, absolutely. Tawney is so refreshing and she's so curious. I think that is the main thing that drives her towards Daniel. She's living in a situation where she's not intellectually stimulated by her husband, and I think she's searching for that part of her brain that is really thirsty for knowledge.
Q: What was it like filming Daniel's Baptism scene from Season 1? It seemed like a big production and there were so many emotional moments.
A: There was an interesting reaction I had during one of the early takes. It just kind of happened, I found myself jumping off the pew and wanting to meet Aden on the other end. He was almost like this child when he emerged, because he was just so lost. That was a nice kind of moment. We're just given so much freedom on this show to follow our instincts and to trust them, and we're really lucky for that.
Q: Tawney seems genuinely convinced that Daniel is a good guy and wants to understand him. Do you think you'd be so trusting in real life?
A: I think I would be. I'm still at a point in my life—land I hope it lasts a lot longer and lasts all the way through—where I trust before I judge, which can get you into tricky situations at time. [Laughs] But I'd rather the experience of learning someone's story. I do often find myself talking to lots of strangers. I am kind of an open book in that way. But I also think that's what keeps me stimulated and happy.
Q: What plot twists or scenes have shocked you most so far?
A: Teddy and Daniel's conflict is so interesting to me. I have to say Teddy's storyline is really exciting, especially in the new season. I'm really, really excited about what Clayne has to do. And I'm told I get to be a part of it a little bit.
Q: You've done a lot of TV, including Love My Way, a hugely popular series in Australia. Is there a big difference between Australian and American TV?
A: On RECTIFY, I'm really, really lucky because we're all very close. I'm living in a house with Luke Kirby [Jon Stern] and one of the producers. Everyone is here. And when Aden [Young] got married, we all went to that. It was the most beautiful ceremony on his farm in Zebulon, Georgia, of all places in the world. But yeah, we're all very close, and that tends to happen also in Australia. There's a huge sense of camaraderie, especially on Love My Way. We were all such great friends.
Need to catch up on RECTIFY? Find out where to stream, download or purchase Seasons 1-4.