The "RECTIFY" Cast on Perfecting the Southern Accent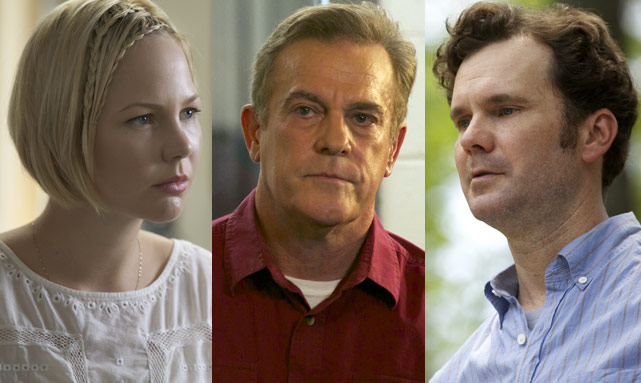 Though some of the actors are from the South, the RECTIFY cast hails from all over the globe. Some embraced the challenge of adopting an accent while others just "let their accents loose." Check out a few approaches below.
Adelaide Clemens (Tawney Talbot): It took a lot of research. With RECTIFY, we really try to steer clear of stereotypes. That's really not what the show's about, so I wanted to create a Southern accent that ties into the background of Tawney's upbringing…. You know, it's not a Texan accent. She's from Georgia. I really wanted to pay attention to that and make sure that I was honoring that.
Bruce McKinnon (Ted Talbot Sr.): Over half of our regular cast they have Southern roots, and those that don't like Aden [Young] and Adelaide [Clemens], they have such wonderful talent that they just brought that to their research and…they just nailed it on the head. Even though I was born in New Orleans and grew up in East Tennessee, I still have to be really conscious to make sure I pronounce certain words correctly. For example the word "pecan." I say "pe-cahn" but we pronounce it differently than the way they say it in South Georgia, which is "pee-can."
Sean Bridgers (Trey Willis): My wife, who is Canadian, says it's more that I let my accent loose. Most people would not be able to understand me if I spoke the way that I did as a teenager. It's a pretty thick accent. I just kind of let it loose. The rhythm and the language [of the scripts] lends itself to [the accent]. I think that's one of the strengths of RECTIFY. Even the actors who aren't from the South fall into [the Southern rhythms].
RECTIFY Season 2 premieres Thu., Jun. 19 9PM/8c on SundanceTV.