The "RECTIFY" Cast on Memorable Moments from Season 1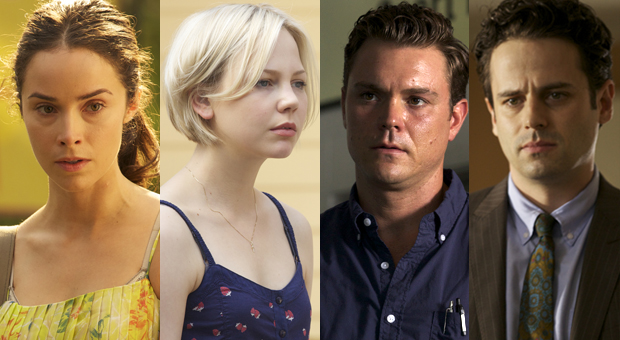 Daniel and Kerwin's prison conversations. The night with the goat man. Amantha cursing out the sherriff. No doubt you have your favorite scene from RECTIFY Season 1. Guess what. The cast does too. Here actors Abigail Spencer, Adelaide Clemens, Clayne Crawford and Luke Kirby reflect on RECTIFY moments that were both gratifying and challenging to shoot.
Abigail Spencer (Amantha Holden): I would say the scene when Daniel was released, on a couple of different levels – one, it was the very first scene that we shot. And, two, it was such a huge moment, thinking of all of the everything that went into his release and all the years and all the life before that. Also, Aden had very long hair and a beard during all of rehearsals. And the morning of he and Ray had to decided to cut all his hair off… so I hadn't seen him and then he came out completely clean shaven and it was very overwhelming.
Adelaide Clemens (Tawney Talbot): The scene after the Baptism. It was a really, really tricky scene, where Daniel and I are talking and he wants to kiss me. I'm probably being self indulgent, but for my character it was such a huge moment where… she's learning the life lesson of being naive… That scene took forever and a day to film. We tried it so many different ways. We really wanted to find the right balance of the danger and also the euphoria of it all.
Clayne Crawford (Ted Talbot Jr.): The most difficult scene was Tawney and Teddy, Episode 2, after the coming home party for Daniel, and she's getting undressed in the bathroom. I have such a respect for my wife and who she is and to just stand in that doorway. I was able to justify it because they are husband and wife and that shouldn't be weird and why should she be hiding and I understood how uncomfortable he became because she didn't want to show herself to him at that moment. But forcing a female to do anything is so foreign from the way I was raised. That was extremely hard for me to get through those moments and to know what Tawney was feeling at that time… And you think Season 1 was difficult? That was a f-ing picnic compared to what I've had to do this season.
Luke Kirby (Jon Stern): I think it's always the stuff with Amantha… Jon's a kind of rhetoric arguer and when things get emotional, he really has to try and stay away from this world of emotion that's surrounding the case and has to maintain this task at hand. And I find this stuff with Amantha becomes trickier because they've found themselves in so deep and they've found themselves together in this very personal case.
Need to catch up on RECTIFY? Find out where to stream, download or purchase Seasons 1-4.