The "RECTIFY" Cast Talk About Their Southern roots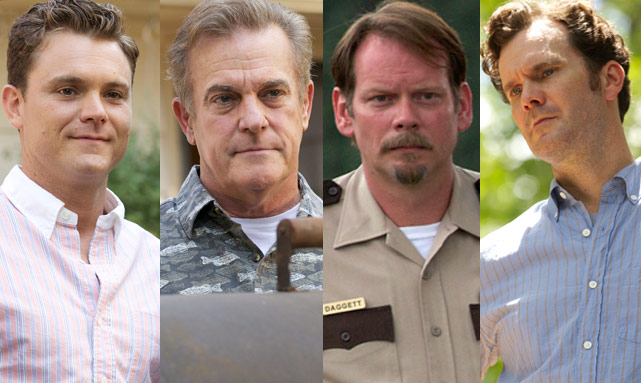 Did you know more than half of the RECTIFY cast is from the South? With the premiere of RECTIFY Season 2 a little more than a month away, we caught-up with the cast on set in Griffin, GA to find out just how deep their southern roots are. Here's what they had to say:
Clayne Crawford (Ted Talbot Jr.): Griffin, Georgia, which plays Paulie, is something of a metropolis compared to where I came from. There's one red light, one gas station, and a post office, and a Piggly Wiggly where I'm from. But I think the similarities are that everyone knows one another's businesses, you know everyone's laundry, and that's what we know of Paulie. It's a living entity and it's a part of the show so much so that it dictates what happens next, meaning if there is an event, it really is just a matter of time—it's dropping that pebble in the water—it will ripple out.
Bruce McKinnon (Ted Talbot Sr.): I grew up in a similar town in Tennessee, and so it's kind of like home to me to a certain extent. I've got my golf clubs and I've got my fishing poles… For me it's just doing outdoor stuff. In fact, Aden came over recently and he spent the night and we went out fishing. I hauled a little boat down from Tennessee… and we went puttin' around fishing. We had a blast.
JD Evermore (Sheriff Carl Dagget): I'm from a small town that's a lot like Paulie. I moved away from there when I graduated high school, but it's something that will always be with me. I know what it's like to know everyone and have everyone know your background and your business.
Sean Bridgers (Trey Willis): I was born in Chapel Hill. I grew up in a small town called Sylva, in the mountains of North Carolina… I think small towns are pretty similar everywhere, whether you're in South Georgia or North Carolina. Everyone knows everyone. Everything's closer. There are drawbacks to that, but there are also benefits. When you're in a city, you have a tendency to feel separate from people. And that doesn't happen in a small town. The town I grew up in is a mountain town. It's a bit different, but there are more similarities than differences between the town I grew up in and Paulie.
RECTIFY Season 2 premieres Thu., Jun. 19 9PM/8c on SundanceTV.