6 Questions With Executive Producer Melissa Bernstein ("Rectify," "Breaking Bad" and "Halt and Catch Fire")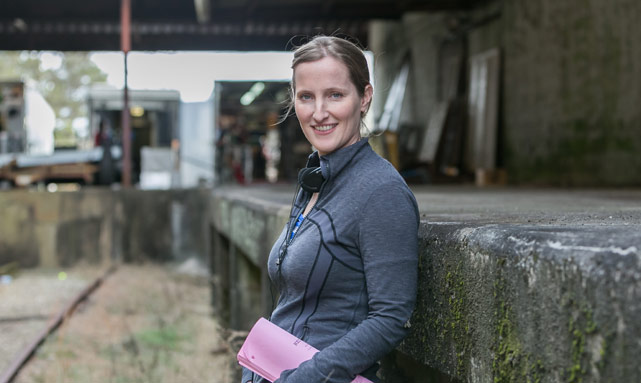 Executive producer Melissa Bernstein discusses unconventional storytelling, connections between RECTIFY and Breaking Bad, and her latest project Halt and Catch Fire.
Q: How did you originally get involved with RECTIFY?
A: Mark Johnson, who I produce with, has known Ray McKinnon for years, and checked in with him periodically and got very lucky on timing. He checked in with Ray very shortly after he'd finished writing the pilot for RECTIFY on spec. And Ray agreed to share said pilot with Mark, who shared it with me that same evening. We read it within 24 hours and immediately fell in love with it. It was just so specific and beautifully written, and it was really in a setting that was so fresh and unique. We asked Ray if we could produce it and developed it for a year or so at AMC. And AMC ultimately had a different mandate at the time, so we just kept pushing and pushing and found a home at Sundance, where it belonged!
Q: Has this ten-episode season been more or less challenging than doing six episodes last year?
A: I think it's more challenging. When we did the first season, Ray had written two of the first six and lived with those two episodes for quite some time before we shot them, so he'd had the time to digest and consider all of his choices in a very complete and thorough way. For the second season, Ray and his writers had to write almost twice as many episodes in far less time. And the second season is much more sprawling…. Opening up the story in that way brought its own challenges and complications, all of which were worthwhile and exciting challenges to take on, but I do think it was more complicated.
Q: What qualities do you look for when you're finding writers and directors for the show?
A: I'm looking for people that can capture the tone of RECTIFY. Typically, if I can find something in their body of work that speaks to RECTIFY somehow, whether it's the tone, or the sensibility, or the aesthetic, or the way characters are handled, and I can see some common thread, that's a big part of it for me. And then also I think this show is a very artistic endeavor. Ray McKinnon is an auteur and it is an auteur-driven show, so I look for people who are interested in participating in that kind of project.
Q: Are there any scenes from Season One you're especially proud of?
A: The sunset that is in the first episode upon Daniel's release. Capturing a sunset or a sunrise doesn't seem like it would be that complicated, but because we're running around with a hundred people, trying to make our day, to be able to time it such that we're capturing magic hour in a way that translates meaningfully on film, that's very difficult… And I think the way that scene came together it was so crucial, for the character, to get Daniel out into the wide beautiful world. And then in 105, Daniel's baptism, I love that sequence also. We had this amazing family gospel group that came to play, and we created our own revival and made that the centerpiece of the episode. I think it felt like something you hadn't seen on television, and I think it really worked from a story place but also visually and viscerally.
Q: Has any other talent carried over from Breaking Bad to RECTIFY?
A: Yeah, certainly. All across the different departments… We have Kate Powers, who was our script coordinator and writer's assistant on RECTIFY, and she co-wrote two episodes with Ray this season, and she was a writer's assistant on Breaking Bad. One of our ADs, Polly Mattson, from Breaking Bad, was our AD the first season of RECTIFY. Aubrey Husar, who was our key grip on Breaking Bad, is a dolly grip this season. Greg Nicotero, who is one of the EPs on The Walking Dead, we used him and his prosthetic makeup team on both shows, and he's amazing…. This season we use an actress, Tina Parker, who played Francesca on Breaking Bad, Saul's secretary. It's actually been really great, a lot of our crew members on Breaking Bad ended up moving to Georgia, I think just circumstantially, and have been day players on RECTIFY this season. It's like coming home to see them on the RECTIFY set. I love it.
Q: You've got a great track record as a producer with Breaking Bad and RECTIFY. What drew you to Halt and Catch Fire as your latest project?
A: Thank you! I was really drawn to the characters at the center of Halt and Catch Fire including the two strong and fresh female leads – Cameron and Donna. They both personify the challenges of so many women of that era (as well as today) and they continue to inspire and surprise me. As well, the Silicon Prairie in 1983 is a very untapped setting that offers a vivid and exciting world for series. I also loved the energy and kineticism of the piece. The world is changing quickly and irrevocably, right in front of our characters' eyes, and none of them want to be left behind!