Which "RECTIFY" Season 1 Episode is Your Favorite? Vote Now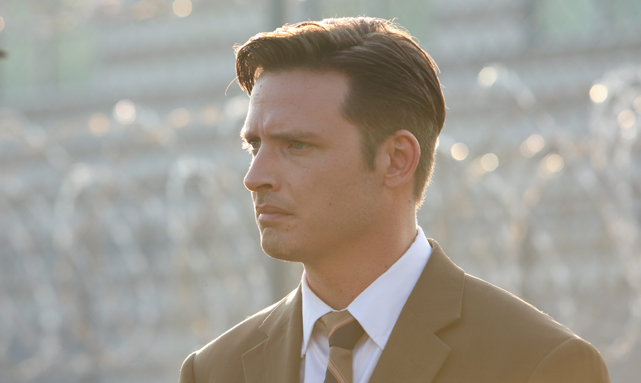 After nearly 20 years on Death Row, Daniel Holden is thrust back into the world as a free man. RECTIFY Season 1 chronicles his first six days of freedom. Which episode is your favorite? Vote below.
Episode 1: Always There
After 19 years on Death Row, Daniel Holden is released due to new DNA evidence. While he and his family re-adjust to his re-entry into their lives, Senator Foulkes seeks to reopen the case against him.
Episode 2: Sexual Peeling
While Daniel explores the town of Paulie, Amantha worries for his safety. Ted Jr. fears for the future of the family business, and Senator Foulkes learns of Amantha's affair with Daniel's lawyer Jon Stern. At an awkward welcome home party, Tawney and Daniel form an unexpected bond.
Episode 3: Modern Times
Hanna Dean's mother decries Daniel's release, causing him to retreat to the attic in search of mementos of his former life. Meanwhile, Jon Stern confronts Daniel's original defense attorney, who suggests a retrial could prove dangerous.
Episode 4: Plato's Cave
Daniel and his mother Janet go shopping; their day in town becomes a media spectacle. Elsewhere, Sheriff Daggett questions Trey Willis about a missing witness, while Daniel and Tawney prepare for the church jubilee.
Episode 5: Drip, Drip
Unable to sleep, Daniel spies on the house of the girl he allegedly murdered then gets baptized at the church jubilee. After sharing a vulnerable moment with Tawney, Daniel finds himself at odds with a jealous Ted Jr. which culminates in a violent choke-hold.
Episode 6: Jacob's Ladder
An explosion outside the Holden home throws the family into chaos. Elsewhere, Ted Jr. and Tawney struggle to make sense of their encounters with Daniel. Daniel, seeking peace at the grave of Hanna Dean, is assaulted by masked vigilantes.
Need to catch up on RECTIFY? Find out where to stream, download or purchase Seasons 1-4.