3 Questions With "REBELLION" Star Brian Gleeson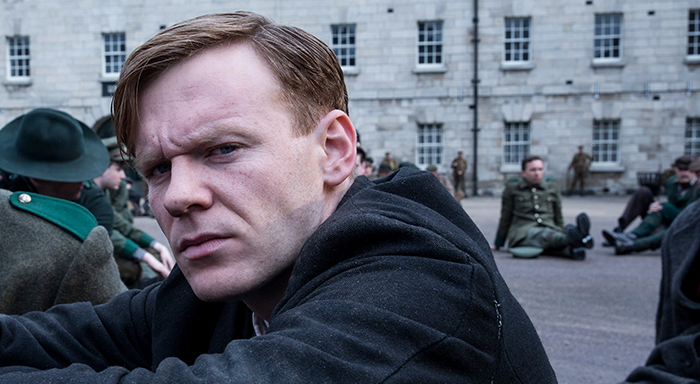 In REBELLION, actor Brian Gleeson (Stonemouth, Darkness on the Edge of Town, Snow White and the Huntsman) plays Jimmy Mahon, a blacklisted compositor and committed socialist during Ireland's Easter Rising of 1916. In this interview, he discusses playing a man ahead of his time and the complicated relationship Jimmy has with his brother Arthur (Barry Ward). SundanceTV's special three-night miniseries event REBELLION premieres Sun., Apr. 24 at 8/7c.
Q: What made you want to be a part of REBELLION?
A: Well, the fictional aspect of it is interesting. We know—or we think we know—the story so well. Actually exploring how it affects what would seem to be normal people that are caught up in it is a very interesting angle. Also, the way we tell stories now, in long form in television, is a great way of really digging in deep and getting to the core of that world, you know. I don't think a movie could do it justice.
Q: What can you tell us about your character?
A: He's a member of the Irish Citizens Army, which was a faction within the Rebel contingent that fought in 1916. But actually their aims were a bit different to the rest of the volunteers; they were all about a workers' republic. So that, to me, was another really interesting part of the script—the socialist angle. His hero and mentor is James Connolly, who said, "Hold on to your rifles when this fight is over," because he sort of foresaw that there'd be a struggle within the Irish army. So it's interesting because you see the tension between the Irish Citizens Army and the rest of the army guys.
I think Jimmy's kind of a modern man in a way. What's interesting about those guys is that they were feminists, you know, and they believed in old-age pensioners rights. So they were real trailblazers in that sense. He was kind of ahead of his time, and that's been great to play.
Q: What do you think of the relationship your character has with his brother, Arthur (Barry Ward)?
A: Ultimately, I think Jimmy doesn't hate his brother, but he hates the British Army and he hates what they're doing to the young men of Ireland: sending them off and killing them over in Flanders and Gallipoli and all these places. It's kind of tragic in a way. He feels like it's justified but he understands that someone like his brother is involved and they have to be because that's the only way they'll get money—by joining the army.
Watch full episodes of REBELLION online now.