6 Questions With "REBELLION" Star Sophie Robinson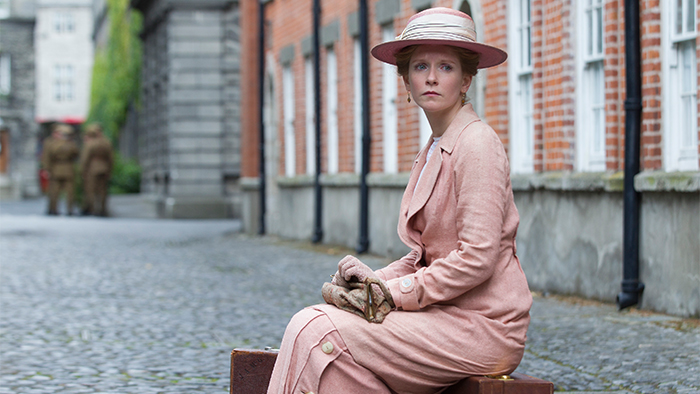 In REBELLION, actress Sophie Robinson (Taking the Boat, Fifteen, Pick Your Own) plays Ingrid Webster, the sweetheart of a barrister in Dublin during Ireland's Easter Rising in 1916. In this interview, she discusses how she hopes the series will shed a new light on the historic Irish event. SundanceTV's special three-night miniseries event REBELLION premieres Sun., Apr. 24 at 8/7c.
Q: What was it like filming REBELLION?
A: It was a privilege. I got to work in great places alongside great people. Aku [Louhimies, Director] made us focus on connecting with each other and character relationships, which is what every actor wants to hear.
Q: What do you think of show approach to the Easter Rising?
A: Hopefully, the focus on the fictional characters will allow people to see this extremely important political event with different eyes. The fictional characters allow us to experience the events from different perspectives on a personal level as well as a political one.
Q: What were standout moments for you during production?
A: The most powerful was Kilmainham Gaol. Re-creating the execution of James Connolly where it actually happened brought home the brutal reality of it all. Regardless of which side you were on, this involved ordinary people with ordinary lives, families and friends.
Q: What can you tell us about your character?
A: I am very fond of Ingrid. She arrives naive and vulnerable in a new city, consumed by her own personal drama — but quickly discovers her characteristic grit and determination. She is flung into a pretty horrific situation but instead of hiding, she grows and begins to trust her intuition. At a time when most of us would be running home, she makes brave, bold decisions, and in doing so finds out who she is and accepts it.
Q: What was the biggest challenge?
A: You always feel a responsibility to do the character justice. Although Ingrid is fictional, a similar person may very well have existed and their story deserves to be told truthfully. The challenge was to link her journey together. It was an extraordinary time for very ordinary people.
Q: What do you want the audience to take away from REBELLION?
A: This project was massiv — I think there are 75 speaking parts in all. Ingrid's story is a small part of this huge drama, so I can't wait to see the piece as a whole. I was really struck by the beauty of Dublin, its buildings and the landscape. Tim Fleming [Director of Photography] along with his team have done some amazing work capturing it, so I hope people feel a sense of pride seeing their city in all its glory. I also hope it sheds a slightly different light on this historical event. That it makes it real — that despite the heartbreak and the fear, there were many lovely human moments containing humor and hope.
Watch full episodes of REBELLION online now.