5 Questions With "REBELLION" Costume Designer Allison Byrne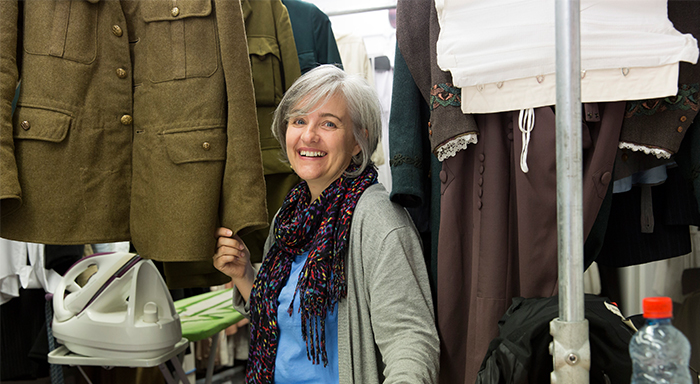 Allison Byrne, the Costume Designer for REBELLION, discusses the challenges of creating looks reflecting early 20th century Ireland at the time of the Easter Rising and the British governing body abroad. The special three-night miniseries event REBELLION premieres Sun., Apr. 24 at 8/7c.
Q: Is this the first time you worked with the show's Producer Catherine Magee?
A: I had worked with Catherine Magee before and I just jumped at the chance. I knew that she would assemble like-minded people and a really enthusiastic and happy crew. And that's exactly what happened. You can achieve so much more when that's the case.
Q: Is period costume designing more challenging than contemporary?
A: There can be more debate around contemporary stuff—especially with actors', directors' and producers' input. There are so many people to please. With something as far back as 1916, there's more leeway as it's driven by memory and historical research. There's still a lot of input. Everyone is trying to pinch it the right way and have the story unfold in a very convincing way, but there's more chance to say, "This is historically accurate." And either they trust you or they don't at that stage!
In REBELLION, it was all about the women. It was about trying to find the convincing social and economic place for them so that you could forget about what they were wearing. It should just feel that they were wearing items from their own wardrobe. You don't want fashion to impinge on the drama. You want viewers to get involved with the characters and not their clothes.
Q: What was the research process like for REBELLION?
A: Research was a huge task, of course, and we met so many people who were such a big help: Lar in Collins Barracks and his team; Sr. Eugene, the archivist in the Mater Hospital; the emblem keeper for the Red Cross, an extraordinary man. We also spoke to a number of groups who are immersed in military history and spent a lot of time researching uniforms and having them made. Groups lent us items (badges and swagger sticks, for example) and we hired others from specialist suppliers. With approximately 400 costumes for crowd/extras needed, 200 military and 400+ for cast, it was a herculean task. With a limited stock of uniforms, the team were hugely busy cleaning and fitting them on new people and constantly turning them around.
Q: How challenging were the military uniforms?
A: The uniforms were the biggest challenge because we didn't have an enormous budget to go hire everything—every detail including shoulder bars and collar bars, for example. To complicate matters further, the British uniform is quite similar to the Volunteer uniform. We needed to signal the difference clearly.
Q: What went into the creation of such iconic looks for the series?
A: Researching the appropriate costumes was a huge task, especially given the spotlight on Irish history now. We couldn't get the important, historical characters wrong. We needed to understand how they got to those iconic moments of well-known photographs. And then, we needed to make it less grandiose and more real so that the characters could speak and breathe and not be like caricatures.
Watch full episodes of REBELLION online now.