"ONE CHILD" Recap: Part 2, Episode 3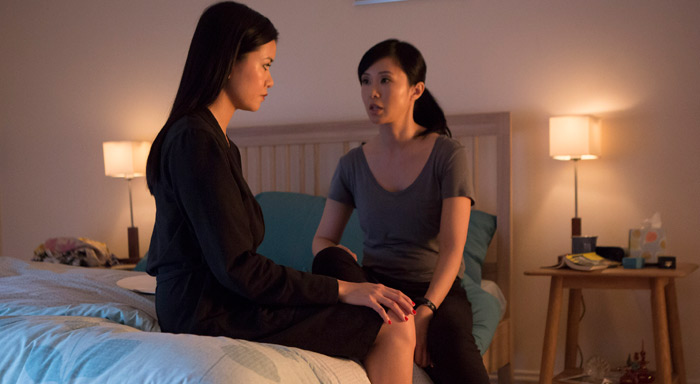 To prepare for her role as hostess, Mei puts on a cocktail dress and Qianyi does her makeup. Lin and Qianyi wait in the car as Mei heads into a complex. A gangster leads Mei past other women into a private room where he tells her to do whatever his clients ask.
The gangster tells Mei to strip. She protests that she's a hostess, not a prostitute, but when the gangster offers to show her the door, she complies. He gives Mei a kimono. Mei tries to spy on the proceedings as guests arrive but the gangster catches her and herds her back into place. Mei has sex with several older clients. As the criminals are closing up at the end of the day, Mei asks them to sell her cocaine.
Back in the car Mei confronts Lin about lying to her. He points out that she wouldn't have gone if he told the truth. Back at Qianyi's apartment Mei sobs in the shower.
Jim and Katherine debate the potential consequences of Mei's situation. Katherine tells Jim that Mei won't see them as her parents when this is all through.
Lin confronts Mr. Ojo and his cousin, the Nigerian coke dealer, with Mei's blackmail, threatening to go to the police if Ojo doesn't convince his men to change their testimonies. Mr. Ojo asks Lin to reconsider, explaining that the entire African community will suffer if he goes against Guan Peng's mandate. Lin tells Ojo that's not his problem and the coke dealer begs Ojo to save him from execution.
The Chinese gangster succumbs to the blackmail as well. Lin and the gangster get the rest of the witnesses into following suit.
Mei and her birth mother visit Ajun in prison and tell him the witnesses have changed their tunes and they've hired him a new lawyer.
Mei thanks her adopted parents for the money and tells them things are looking hopeful. She doesn't share the details of her ordeal. Her parents tell her they have a flight to China booked but she asks them to cancel and let her handle things on her own.
The activist group tells Mei they'll fast-track an anti-witness-tampering campaign they've been working on that gives all citizens a chance to report coercion to stop Guan Peng from re-intimidating the witnesses.
The activist responsible for the campaign asks Mei to take her story to the New York Times if things go badly in exchange for the risks the members of his group are taking and she agrees.
Everyone waits for the next court date. Mei receives an anonymous text reading, "God forgive us."
The court finds the defense guilty of evidence tampering, all eleven witnesses having gone back to their original statements. Ajun is sentenced to death and the activists are arrested. As Qianyi is dragged away, Mei accuses the journalist of using her for publicity, knowing that Ajun's cause would not succeed.
Mei attends to her birth mother, then pays a visit to the lavish home of Guan Xiaopeng, the boy who really killed the African.
Need to catch up? Read recaps of earlier episodes to get up to speed.