Cast Members
David Earp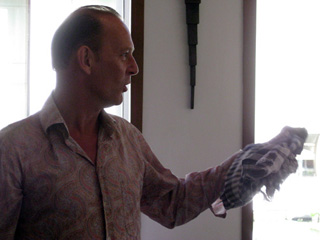 David Earp started his career selling vintage clothing and textiles at Portobello Road in London, where he ran a stall for more than 20 years. On a trip to Calcutta to source fabrics, he visited a project in Calcutta helping children living on Howrah Station. While many of the children there were given aid and shelter, children with disabilities were often overlooked.
David continued to travel between London and Calcutta for several years until moving full-time in 1998. He started the Shuktara charity, providing a home and care for children with disabilities. Many of the children who came to live at Shuktara had been abandoned by their families, and were ignored by society because of their disabilities. David's home has grown to include over a dozen children and numerous staff.
While living in Calcutta, David was able to continue his previous work by designing textiles and blankets for stores in the UK and the United States. David works with a group of women in Calcutta who stitch together beautiful fabrics in a chain stitch style, known as kantha. David's partnership with Anthropologie began in 2004. His work is known for using only vintage fabrics - saris, shawls, dhotis, and lunghis – mixed to create a quilted feel. A portion of the profits from the textiles goes directly to benefit Shuktara.