"LOREDANA, ESQ." Recap: Episode 6 (Potheads and Knuckleheads)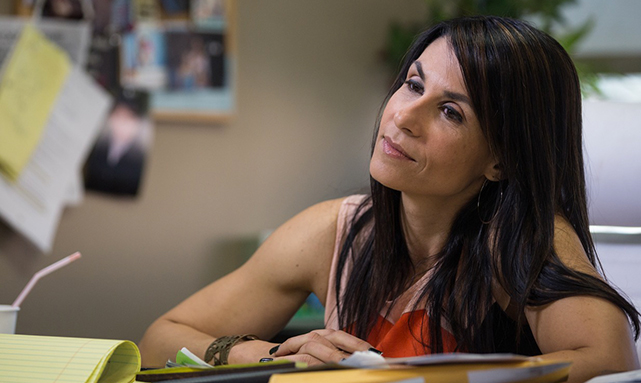 By Geoff Blain
I really like this episode as it shows how quickly public opinion can change on an issue as controversial as the legalization of medical marijuana. To date, there are 21 states (plus the District of Columbia) that allow for the legal sale of medical marijuana and another 12 states with pending legislation. This little preamble is meant to highlight the fact that it was only ten short months ago that federal prosecutors were threatening criminal and civil action against the dispensaries if they didn't cease their activities immediately. It's here that the episode begins with Loredana's client Henry Yang receiving his closure notice while her client Refaat Fam has his dispensary raided. LD is frustrated as state law differs from federal, so compliance is almost impossible. LD makes a plan to meet with Beverly Hills attorney Raza Lawrence, who specializes in medical marijuana advocacy and I head out to meet with Nicolas Henderson, who is also a dispensary owner and is at the apex of the legalization movement.
And back for Round 2: Mike Mingolello, aka "Chunk," from Episode 2 is back in jail for assault and destruction of property while still on probation for brandishing a weapon and resisting arrest, and this time LD lets him have it! We learn that Chunk confronted his tenant about late rent payment and ignoring his request to not block other residents with his car. The tenant attacked Chunk, and Chunk retaliated by trying to tow the tenant's car himself. This resulted in a broken bumper, a broken axle and Chunk getting his ass kicked. LD's not happy, but Chunk is family so she takes his case pro bono and tells him: One more incident and he is on his own. This ends up being both civil and criminal so LD puts our resident supersleuth, Booker Cole, on the case to see what dirt he can find on the tenant – and BC finds out that the guy isn't a nice man. Many priors. Confrontations with other neighbors. This is the ammo LD needs to threaten the tenant's attorney into dropping the civil suit and agreeing to not testify in the DA's criminal trial for parole violation. The strategy works and Chunk avoids incarceration.
In this episode we also get to meet LD's ex-husband, Doug Jeffrey, who would like LD to check on the legitimacy of a company in which he has invested $10K. LD will do it, but at the "family rate." I have no idea what that means. When it comes to current family, ex-family, extended family, I just open my eyes really wide and nod my head. The company is fraudulent, the stock worthless, and LD convinces the company's owner to return Doug's investment or face expensive court time. As always, LD gets her way.
With the dispensary issue still looming, LD decides that it will be easier to assist in securing signatures for one of the groups trying to have an initiative added to the next general election that will allow dispensaries licensed before 2007 to stay open so long as they are in compliance with all regulations. Easier to try and change the law than to try and convince the courts that you're are in compliance with ever-changing regulations. As a result of our signature gathering, "Proposition D" was added to the ballot and passed by the people of California. It was a great way to wrap up the season.
Find out what makes this LOREDANA, ESQ. co-star tick. Click here for 5 Questions with Geoff Blain.