"LOREDANA, ESQ." Recap: Episode 5 (Don't Come Back In a Body Bag)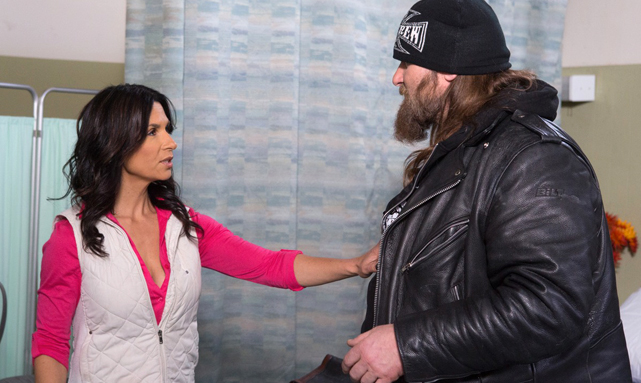 By Geoff Blain
We begin the episode with Loredana on her way to the hospital after receiving a call from her longtime friend and client Andrew Bryniarski. Evidently, Andrew has had an altercation with a neighbor that has resulted in Andrew being stabbed six times with an ice pick. Horrible, but not unimaginable. LD is, after all, a criminal defense attorney and we see a lot of horrible things. What is unimaginable is the fact that the police, although they've arrested the accused assailant, John Harris, haven't issue an emergency protective order for Andrew. For those of you who are unfamiliar with Andrew, he is a muscular 6'5" actor who has made a career of playing intimidating and brutal characters like Leatherface from The Texas Chainsaw Massacre. LD believes that the police failed to issue an Emergency Protective Order because Andrew is a big guy, has had run ins with the law, he's got a "little bit" of a record and gets a little mouthy with the police – so she thinks it's possible that they are discriminating against him. It's at this point that LD says, "I became a criminal defense attorney to step in when the law fails people." Best quote of the entire series. (Although, I do like it when an episode begins with "Call Geoff Blain.")
Meanwhile, back at the office…
LD, Booker and I watch a video shot by a neighbor who witnessed the altercation between Andrew and John. Unfortunately, the video doesn't clearly show Andrew as victim and Harris as assailant. LD decides that I need to do a little recon at the apartment complex while she has a civil judge issue a temporary restraining order while petitioning the DA to issue a criminal protective order while the Temporary Restraining Order (TRO) is in place. All this to protect Andrew and his family from John when John is released from jail.
After speaking to a couple of neighbors and the apartment manager, we learn that John and his family have lived in the complex for approximately three months after relocating from New Jersey. Booker does some digging and finds out that back in New Jersey, John Harris is a convicted sex offender and that he has failed to register as such after moving to California, as is required by the Sexual Offender Act of 1994, aka Megan's Law. LD is hopeful that this new info will help push through the TRO.
As if LD's life isn't crazy enough, she decides to help the comedian Richie the C with his intellectual property/trademark problems, all while juggling Rocco, the house, the animals and a mixed bag of stabbing victims and sex offenders – as Robert prepares to travel to Vancouver and New York to scout distillery locations for his budding vodka business.
Richie the C has a signature catchphrase and gesture that he uses which has been appropriated by other comedians, thusly devaluing his act. Bob Levy is once again brought in to act as the copyright/trademark tactician, and it is decided that a logo needs to be created, placed on a T-shirt and entered into commerce so as to create a legal precedent for cease and desist. It's a sketchy proposition but LD convinces a trademark attorney to process the application.
The case for Andrew becomes urgent when I find out that John Harris has been released from jail on his own recognizance. LD goes into high gear and a TRO is granted, requiring Harris to stay away from Andrew and his family by at least 10 yards. Booker goes to serve Harris with the TRO but upon arriving at the complex finds the apartment empty. Since the TRO cannot be served and will expire in 15 days, it's imperative that the Criminal Protective Order be issued immediately. A hearing is scheduled, Harris fails to appear, the DA asks the judge to revoke his bail and issue a bench warrant no bail, and LD asks that a CPO be issued. Done, done and done. Finally, some legal protection for Andrew and his family.
Robert returns home after being on the road and informs LD that he has found the perfect spot for his distillery right here in Los Angeles. LD is very relieved as she has her other half back.
The finale of LOREDANA, ESQ. airs tonight 9PM/8c. Check out the sneak peak below for Episode 6: Potheads and Knuckleheads.