"LOREDANA, ESQ." Recap: Episode 3 (You Make Me Want to Do Crime)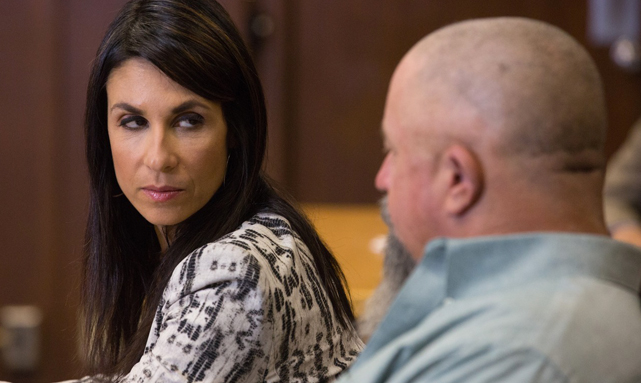 By Geoff Blain
The comedian Christopher Titus once described himself by saying, "I am just a very thin layer of charming with some funny sprinkles wrapped around a huge creamy center of raging, arrogant a-hole." If you thicken the layer of charm and change "arrogant a-hole" to sexy ballbuster, I think you get a pretty good look at the two sides of LD's professional personality. Both of which you get to see, side-by-side, in this episode.
Once again, we've got two cases:
1. Deron Jaffe: Possible police abuse of 4th waiver leading to harassment while on felony probation
2. Susie Singer-Carter: Currently being sued by her former attorney
We start out with LD driving to San Diego to meet with Deron, who's a member of a bike club in San Diego and is unable to leave the county because he's on felony probation for a previous crime – a bar fight where he ripped the club patch off another biker. Once there, Deron explains that he waived his 4th Amendment rights, thus allowing the police to search him, his home and his vehicle whenever they want over the course of his two-year probation. The problem is that Deron believes the police are abusing the 4th Waiver and unfairly targeting and harassing him. There's not a whole lot LD can do other than to tell him to suck it up, keep his nose clean, stay away from his biker friends and ride out the probation.
Shortly after returning to LA, Deron calls LD in a panic. Sheriffs raided his home while he was at work. LD advises him to leave work, go to a hotel and lay low until she can get more info. This really only happened because the raid took place on a Friday afternoon, and instead of spending the weekend in jail, Deron might as well hang out at a hotel until Monday morning when we can get all of the specifics. Monday comes, I call the sheriff's office and there is a warrant out for unlawful possession. LD heads back to San Diego to convince Deron to turn himself in, which he does.
The long and short of it is this: During the raid on Deron's home, the police found a half box of live ammunition, which is a violation of his parole and could put him away for seven years. Bail is denied at his arraignment, and LD visits Deron in jail, where he claims he never had any ammo in the house and that it must be a plant. As there are no pre-raid photos in evidence to support the finding of ammunition, LD meets with the DA to broker a deal. The DA offers three years, out after two with good behavior. Total bullshit and LD's ready to fight. LD, Booker and I do our back-and-forth over Guilty / Not Guilty and come to the conclusion that the DA has nothing and doesn't want this to go to trial. At the hearing, LD points to the lack of evidence and the judge offers two months jail time. Deron takes the deal. Technically not a win but, boy, much better than seven years! Whew!
Now we've got Susie Singer-Carter, who is being sued by a former lawyer for $6,000. She hired him to try to gain control of her ailing mother's estate, but he did nothing and she still doesn't have any control over her mother's care. LD agrees to try to help her, but there are many documents to go through and she needs to hear the other lawyer's side of the story.
LD had consulting attorney Bob Levy look over Susie's case. He tells her that Susie's lawyer filled out the conservatorship papers incorrectly so she never had a chance of winning. LD thinks Susie has a great case for arbitration and for a malpractice lawsuit.
Bob, Susie and LD meet to make sure Susie is prepared for her arbitration. It's especially prudent because the person suing her is another lawyer. Bob coaches her.
Susie comes over after the arbitration to tell LD the good news: that she won the arbitration. LD asks her if she wants to go after the lawyer, but Susie is tired and wants to put it all behind her.
AND, if all this weren't enough – someone has stolen a check from LD's office, forged her signature (badly!), and drained an account of almost $5K.
Always exciting at LOREDANA, ESQ., but I have to say, I can do without some douche stealing from the office!
LOREDANA, ESQ. airs Mondays 9PM/8c. Check out the sneak peak below for Episode 4: Dirty Talk and Stolen Identities.