5 Questions with "LOREDANA, ESQ." Star Geoff Blain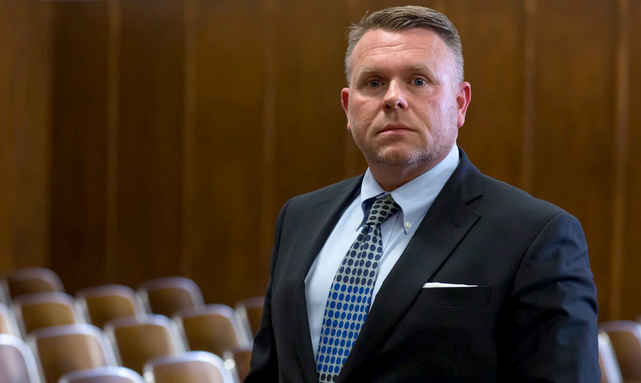 Geoff Blain, co-star of LOREDANA, ESQ., digs into his past as a TV executive and discusses what makes him the Alfred to Loredana's Batman.
SundanceTV: How did you end up working with Loredana?
GB: LD and I met through mutual friends years ago when I was a TV development executive for a production company at Fox. One day she called me out of the blue wanting some help/clarification with regard to a television client. You know how these things go – one thing led to another, and before I realized what was happening I'd been sucked through the looking glass and into the world of criminal defense. There's a crazy symmetry to my leaving television to work in law just to end up back in television don't you think?
SundanceTV: You've described Loredana as a friend and a personal superhero – which makes you the sidekick. Which superhero duo do you two most emulate and why?
GB: I think it's less duo and more team where I'm Alfred to her Batman – sort of assistant, confidante, and friend.
SundanceTV: All kidding aside, what makes the two of you such a good team in real life?
GB: LD is very passionate about the law and creative when searching for resolution; whereas, I'm a bit more pragmatic and linear in the way I problem solve. We're like a provincial French restaurant where the husband is the chef – running the kitchen, creating the menus, standing in the spotlight, and the wife runs the front of the house, takes the reservations, deals with the patrons, and is in charge of finances. I'm basically LD's wife! It's not been my experience to know many forthright, honest, forgiving, kind, and loving people; so, I make sure to hold them very close when I find them. LD – for me, is one of those people and I'll do anything to keep our little team of two going.
SundanceTV: How involved are you in picking Loredana's cases? What attracts you to a client's case?
GB: Not very. It's always LD's call, and frankly, I'm constantly surprised by the cases she chooses to accept. My job is to monitor her bandwidth and facilitate the flow of work. With all that said, there are clients and issues to which I'm more attracted. Gypsy Taub is a perfect example. At first I thought Gypsy's case was a waste of time, a bit of a joke, and more than a little salacious. But as I got to know her and her fiancé James, I realized that I wanted to work very hard to insure that they were able to express themselves as nudists. Again, it goes back to kindness, and I found myself wanting to help her.
SundanceTV: From working with Loredana, what would you say are the biggest lessons you've learned?
GB: Never lie to your attorney. Loyalty is earned every second of every day. Always give LD bad news first – unless she hasn't eaten or she's just back from yoga.
Click here to read about Loredana's past as an officer with the LAPD. Don't miss the season finale of LOREDANA, ESQ. this Monday 9PM/8c.