"LOREDANA, ESQ." Recap: Episode 1 (Never Lie to Your Lawyer)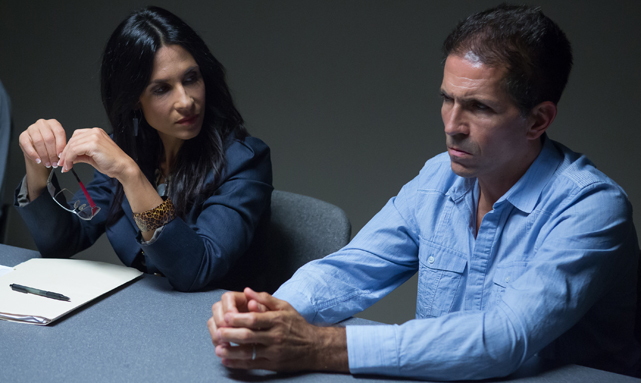 By Geoff Blain
Loredana Nesci. One tough ex-LAPD cop who is now one tough criminal defense attorney. She also happens to be my boss, my friend, my personal superhero, a pain in my ass, and the world's greatest mom. Loredana loves to say that the legal system is a game – and when it comes to defending her clients, she plays to win. That's it. That's LD in a nutshell. You want her on your side.
Lorri Moore – a sometime client of LD's (my shorthand for Loredana) – calls one morning to say that there is a detective at her house. LD tells her to be polite, say nothing, she is on her way. Once there, the detective IDs himself as being from the Suffolk County, New York, DA's office and that Lorri is a suspect in a case of mortgage and real estate fraud. LD has the detective leave and the ladies sit down for a heart-to-heart. Lorri acts befuddled by the charges and plays victim. LD promises to help her by taking the case but she will need to find out more.
Meanwhile, back at the office, Mark Blanchard – another longtime client – is waiting for LD to return. Mark is a yoga instructor with some issues. I know. Namaste? Maybe. The irony is lost on no one. Anyway, LD returns and we find out that Mark has had a temporary restraining order for alleged assault filed against him for hitting a business associate. LD knows she's going to help, but she needs a lot of information.
The counterbalance to all of the professional crazy is her "partner in life, because we're never going to get married," Robert, and their amazing little boy, Rocco. The house they just purchased is a complete remodel, and they are living through the renovation by sleeping in a tent in the backyard. (S'mores, anyone?) She's frustrated and he's frustrated by her frustration.
This is the point in the story where you get to meet Booker Cole. Booker is the best! Unflappable. Honest. Forthright. All-around great guy. Also ex-LAPD. LD turns to him whenever she needs detective work regarding law enforcement or government agencies. LD, Booker and I sit down to go over the major elements of Lorri's case: how she recently spent a lump of cash to have her credit fixed, and how she received $40K in payments from the guy she claims stole her SSN to purchase four homes in the Hamptons. LD confronts Lorri, who cops to everything, saying she was duped by some pretty slick con artists. We work out the details of the case in our GUILTY/NOT GUILTY way and come to the decision that the NOT GUILTY column outweighs the GUILTY. LD makes a plan to call the Suffolk County DA.
Meanwhile, I got my hands on a copy of the Mark Blanchard assault video and it doesn't look good for Mark. Somehow, LD is able to convince Mark's accuser to agree to mediation.
In a phone call to the DA, Loredana explains that Lorri will testify in the case of fraud against the guys who started the whole thing in exchange for immunity. After some deliberation, he finally agrees. Loredana calls in Bob Levy – a witness coach – to work with Lorri, who pulls it off and goes free of all charges. I had my doubts in the beginning as to the veracity of Lorri's story, but after reading all of the evidence and knowing Lorri, it's clear that she was only guilty of poor judgment.
With Mark, mediation is tough, but the accuser is frightened away with the threat of being accused of threatening a minor. The accuser and Mark both sign a STAY AWAY agreement. Case closed.
After working a hard day, Loredana goes home to find that Robert has finished the master bathroom, and has champagne and flowers waiting for her. She is pleased and pulls him away to demonstrate her affection.
LOREDANA, ESQ. airs Mondays 9PM/8c. Check out the sneak peak below for Episode 2: Naked and Afraid.