5 Big Screen Biker Gangs That You Don't Want to Mess With (and Why)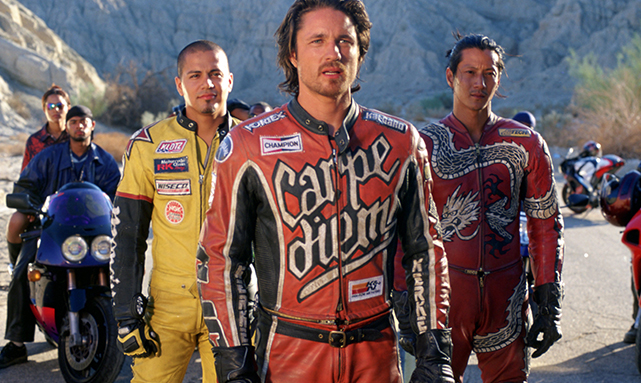 Motorcycle gangs in the movies are a lot tougher than they used to be. Just compare the crazy, high-speed stunts in Torque to the football-helmeted road trip rides of Easy Rider. Which one really gets your adrenaline pumping? Before you watch LOREDANA, ESQ. go into combat for some real-life bikers tonight at 10PM/9c on SundanceTV, take a look at these five big-screen biker gangs that make the Hells' Angels look like… well, angels. Welcome to the new millennium.
1. Six-Six-Six'ers, Hell Ride (2008)
Quentin Tarantino produced this homage to outlaw biker pics from the late '60s. Led by The Deuce (David Carradine) and Billy Wings (Vinnie Jones), these murderous motorcyclists terrorize rival gang The Victors all the way from the '70s to the present day.
2. Wild Hogs, Wild Hogs (2007)
You wouldn't expect a bunch of suburban dads to be so damned tough. Truth be told, these guys have some trouble staying on their hogs at first. But eventually, they leather up and face off the Del Fuegos, humiliate a macho biker (Ray Liotta), and defend an entire town.
3. The Hellions, Torque (2004)
All The Hellions care about is dealing drugs and driving so fast that women's dresses fly up as they pass. Their leader (Matt Schulze) is so twisted, he frames a nice-guy biker (Martin Henderson) for the murder of a rival gang member. But it's hard to hate a Hellion who jumps his bike onto a moving train.
4. Black Knights, Biker Boyz (2003)
How crazy are the Black Knights? Well, they sometimes stand on their cycles while racing at high-speed for starters. And if the stunts look real, that's because they are. The wheel-popping hijinks are performed by members of actual motorcycle clubs like Total Package and Valiant Riders.
5. Zombie Bikers, Biker Zombies From Detroit (2001)
Years before The Walking Dead and THE RETURNED, the zombies had taken to two wheels and were harassing the citizens of Detroit, including one family that had relocated from a small town called Hell, Michigan. Sound ridiculous? Well, it is a comedy.
To see a different side of Torque's Martin Henderson, tune in for THE RED ROAD finale this Thursday at 9PM/8c.