4 Questions with "LOREDANA, ESQ." Star Booker Cole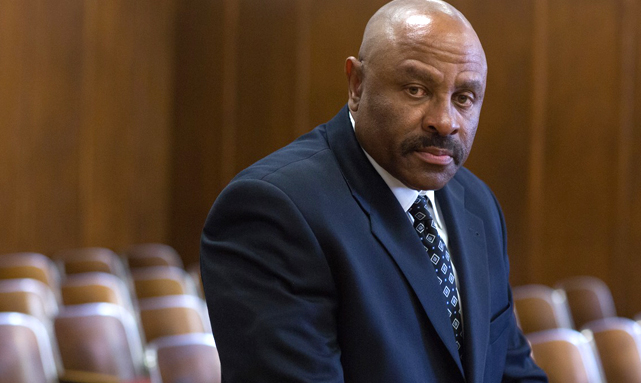 Booker Cole, co-star of LOREDANA, ESQ., digs into his past as a patrol officer for the LAPD and discusses what makes him an integral member of Loredana's team.
SundanceTV: How did you meet Loredana?
BC: I met Loredana several years ago, while I was working as a patrol officer. I was dispatched to Loredana's office to discuss a client issue. The client had been a victim of a crime in another jurisdiction. During our initial meeting I learned that she had been a police officer and she had a thorough understanding of what I could do. I was a licensed attorney at that time and was very impressed with the career transition she had made. Robert, her significant other, was also in the office when I met her. Rocco had not even been thought of yet. We all got along so well that we maintained contact over the years.
SundanceTV: Like Loredana, you transitioned from cop to lawyer. What sparked that decision?
BC: I am an Air Force veteran and did not attend college right after high school. I earned my Bachelor's and Juris Doctor degrees a little later in life. I love sports and thought of transitioning to a career as an entertainment/sports agent during and after I retired from the police department. I had been a police officer for 14 years when I became an attorney. After I graduated there weren't many "Jerry Maguires" unless you had family members, friends or associates that you could represent. Larger agencies were able to provide clients with vast marketing, financial, and career resources. No other forms of law have interested me, so I don't practice.
SundanceTV: Loredana comes to you for information. What does it take to get all the answers you need for a case?
BC: An understanding of the law and an analytical ability helps. I feel my biggest asset is working for over 25 years as a patrol officer. Knowing the necessary elements to arrest and prosecute crimes, seeing and working every type of crime first hand and interviewing and interacting with victims, witnesses and criminals (sometimes generations of criminals) makes even the most complex cases seem like a simple puzzle.
SundanceTV: You deal with clients who sometimes fall within a moral gray area. How easy is it for you to deduce a client's guilt or innocence?
BC: I am quite a bit older than Loredana and spent more time putting people in jail. As you will see in some of the episodes, I often differ with Loredana in giving the client the benefit of the doubt. Don't get me wrong. Inside her criminal defense head she knows the deal. It's a little hard for me to look for ways to find freedom for people that should be left on "criminal island," but as a former police officer and attorney I truly respect the Constitution and the ability of everyone to receive fair representation. That doesn't always take away the burn.
Click here to read about Loredana's past as an officer with the LAPD. LOREDANA, ESQ. airs Mondays 9/8c.