10 Great Courtroom Dramas Ripped from Recent Headlines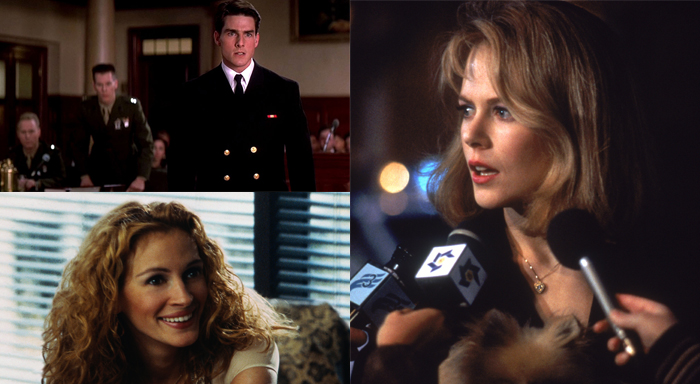 Some of the greatest movie dramas take place in the courtroom. And some of the best courtroom dramas are based on true crimes. Get inspired (or infuriated) all over again with this list 10 of the best from the last 25 years.
Hooked on legal drama? Don't miss the brand-new SundanceTV original series LOREDANA, ESQ., Mondays at 9P/8c.
ERIN BROCKOVICH
Julia Roberts won an Oscar by portraying a California single mom and legal aide who battles the polluting behemoth Pacific Gas and Electric Company. Her unconventional approach (and attire) won her the hearts of the plaintiffs–and the case. After the movie's success, the real Brockovich got famous too.
MONSTER
A particularly gruesome true story–that of Florida prostitute Aileen Wuornos, who killed seven johns over about a year's time–made front page headlines then crossed over to the movie section when Charlize Theron "played ugly" and won an Oscar for her troubles.
A FEW GOOD MEN
Inspired by a Guantanamo Bay story he heard from his sister, a lawyer in the Navy, Aaron Sorkin wrote a play then a movie script about two Marines court martialed for killing a fellow soldier. Interestingly, not one but four lawyers have asserted that dashing Lt. Kaffee (Tom Cruise) is based on them.
A CRY IN THE DARK
Based on the "dingo ate my baby" case in the Australian Outback, this Meryl Streep flick told of little Azaria Chamberlain, whose parents claimed she was snatched up from a campsite by a dingo. The public condemned the Seventh-day Adventist couple, even though the were exonerated of wrongdoing.
NORTH COUNTRY
Another Charlize Theron pic, this one concerns a young mother who goes to work in an iron mine then causes a stink when she discovers how the men mistreat female coworkers. It's all based on the very first class-action sexual harassment suit — Lois E. Jenson v. Eveleth Taconite Co — back in 1988.
REVERSAL OF FORTUNE
The chilling tale of Claus von Bülow (played by Jeremy Irons), a pompous minor aristocrat accused of attempted murder after his wife, Sunny (Glenn Close), falls into a diabetic coma. The movie is based on the book by Alan Dershowitz, who successfully represented von Bülow in the appeal of his initial conviction.
THE PEOPLE VS. LARRY FLYNT
Journalism students still study this groundbreaking libel case which upheld the right to publish parodies that clearly weren't factual. (Hustler printed a faux ad claiming, Rev. Jerry Falwell's first sexual encounter was in an outhouse with his mother). Larry Flynt (Woody Harrelson) won the case despite crazy courtroom antics.
IN THE NAME OF THE FATHER
This drama is about the Guildford Four who were falsely convicted for a fatal IRA bombing but whose confession was coerced by torture. Eventually Gerry Conlon (Daniel Day-Lewis) is exonerated once attorney (Emma Thompson) proves that the police had fabricated evidence.
TO DIE FOR
This hybrid comedy-drama-crime-thriller-mockumentary is based on the case of Pamela Smart, who was convicted of murder after convincing her teenage lover to off her husband. Nicole Kidman and Joaquin Phoenix star in the deliciously sordid Gus Van Sant interpretation. Who knew it was true?
A CIVIL ACTION
John Travolta stars as real-life attorney Jan Schlichtmann, who took on major manufacturers after fatal cases of cancer in children were linked to environmental pollution in the water supply of Woburn, Massachusetts. He loses the case (and his practice) in the process but his work led to significant reform.