Liar Recap: Episode 106 (The Marshes)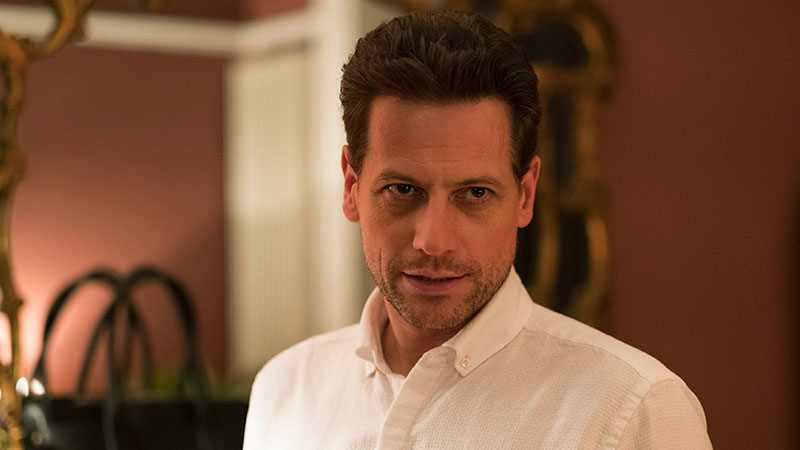 Andrew (Ioan Gruffudd) returns home after Laura's (Joanne Froggatt) abduction and tells Luke (Jamie Flatters) that Detective Vanessa Harmon (Shelley Conn) is falsely accusing him of rape. He begs Luke to give him an alibi. Luke quietly agrees.
Detective Harmon drops Laura off at her house and promises to call as soon as charges are pressed. Meanwhile, police officers confront Andrew at the hospital.
Three months later, Laura meets Ian (Kieran Bew) for a date at a restaurant.
Katy (Zoë Tapper) drops off the kids at Liam's (Richie Campbell) house and suggests they try to reconcile. Liam rejects the idea.
Laura enjoys her date with Ian but freezes when she sees Andrew with a woman outside. She tells Ian that police allowed Andrew to walk free even after Detective Harmon's charges. Ian drops Laura off at her building and arranges another date. They kiss.
Andrew tries to cajole his date into another drink. She declines but agrees to come to his house for dinner another night.
Laura looks at Andrew's social media feed and sees photos of Andrew and Charlotte (Laura Aikman), the woman from his date. She meets with Charlotte to warn her about Andrew. Charlotte says Andrew told her all about the rape accusations and how they upturned his life. Laura gives Charlotte a piece of paper with Detective Harmon and Catherine's (Dawn Steele) phone numbers so that Charlotte can talk to them herself.
Detective Harmon's partner, Jennifer (Jill Halfpenny), who is back from her tour of duty, asks Detective Harmon why she's behaving strangely. Detective Harmon starts to cry.
Luke stares blankly at his social media feed, which is filled with mocking comments about Luke and Andrew. Andrew tries to cheer him up but Luke retorts that Andrew is in no position to give advice. Charlotte calls Andrew to tell him what Laura told her.
Andrew goes to Laura's street in the middle of the night and calls her. He describes her bedroom in detail and says that he often "replays" the rape.
Laura calls Detective Harmon to relay her hunch that Andrew videotapes his rapes. Detective Harmon passes Laura's tip on to the new investigator — Charlotte, who is dating Andrew as part of an undercover operation. Charlotte explains that she told Andrew about Laura's warning in the hopes that it would unsettle him and cause him to make a mistake.
Katy breaks into Andrew's locker at work and steals his phone. She gives the phone to Laura and tries to make amends. Laura admits that she misses Katy but ultimately doesn't trust her.
Charlotte goes to Andrew's house for dinner. Andrew serves her a glass of wine. Charlotte asks for water before sipping her wine. While Andrew is away, she grabs a syringe from her bag and takes a sample of the wine. Andrew catches her with the syringe and tells her the lab won't find anything in the sample.
Charlotte flees to an undercover police car and rips off her wire in frustration. Meanwhile, Andrew pulls a vial of GHP from his pocket and places it in a tin can.
Laura meets Tom and informs him of her suspicions that Andrew videotapes his rapes. Tom connects Andrew's phone to his laptop.
Detective Harmon hangs up the phone after speaking with Charlotte and tells Jennifer that the undercover operation went badly. As Detective Harmon cries, Jennifer regrets that she wasn't around to protect Detective Harmon.
While scanning Andrew's phone, Tom notices a recent text from a woman named Mia (Ivana Basic): "When can you come over to collect your things?" He finds Mia's address in Andrew's phone.
Laura goes to Mia's house and explains that Andrew sent her to pick up some belongings. Mia tentatively takes Laura to the backyard shed. Laura finds Andrew's duffel bag of GHP vials and memory cards. She drives home and puts one of the memory cards in her laptop. She opens a video file labeled "Vanessa" and discovers footage of Detective Harmon's rape.
Laura brings the memory cards to the police. Detective Rory Maxwell (Danny Webb) informs her that they discovered videos from 17 rapes in which Andrew is clearly identifiable. He assures her that Andrew will go away for a long time.
Police go to Andrew's house to arrest him, but Andrew is gone.
Tom watches a TV news report that reveals Andrew is still missing after a three-week search. The reporter explains that recordings of his sexual assaults, dating back years, were leaked to the press.
Meanwhile, a lone figure rows a boat through the marshes. Andrew's corpse lies in the middle of the marshes, his throat slit.