Liar Recap: Episode 104 (Catherine)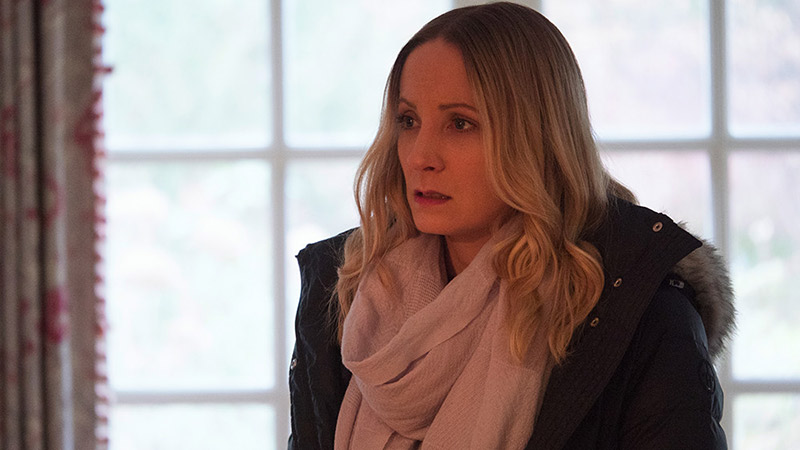 Laura (Joanne Froggatt) calls Katy (Zoë Tapper) from the airport and tells her that Andrew (Ioan Gruffudd) broke into her apartment. She vows to take Andrew down.
Laura flies to Edinburg and visits the home of Mrs. Cassidy (Clare Higgins), the mother of Andrew's ex-wife, Mary. She informs Mrs. Cassidy that Andrew raped her and asks if Mrs. Cassidy knew of any marital issues between Andrew and Mary. Mrs. Cassidy insists that Andrew was a good husband and orders Laura to leave.
At home, Andrew assures Luke (Jamie Flatters) that the bullying will end as soon as he clears his name. Alone, Andrew fixates on an online photo of Detective Vanessa Harmon (Shelley Conn).
Detective Harmon informs Detective Rory Maxwell (Danny Webb) that she requested a transfer to a different department, feeling that her work in the Sexual Offenses Investigation department is futile. Detective Maxwell urges her to stand strong against the "Andrew Earlhams" of the world.
Laura tracks down Catherine McAulay (Dawn Steele), Mary's former business partner, and inquires about Andrew and Mary's marriage. Catherine insists that there was nothing suspicious about Mary's suicide. Laura asks Catherine to call if she thinks of anything.
Laura checks into a hotel after her return flight is postponed. She meets Ian (Kieran Brew), a fellow traveler, at the bar.
Detective Harmon video chats with her partner Jennifer (Jill Halfpenny) who is stationed in Mosul, and complains about the futility of her work.
Ian offers to buy Laura a drink, and persists when she declines. "I said no," she says and leaves abruptly.
Catherine calls Laura and meets her at a cafe. She reveals that she slept with Andrew and that Mary killed herself soon after finding out. She says Andrew insisted the fling was her idea but says she now believes that he raped her, given the similarities between her and Laura's experiences. She agrees to talk to the police.
Andrew jogs on a beach.
At work, Tom's (Warren Brown) boss informs him that he stands accused of misconduct for searching Andrew's home without justification. Tom learns that his friend, Nigel Wilson (Tim Chipping), has already spoken to police about his role in the search.
Andrew informs his boss that he's ready to return to work.
Andrew picks the lock to break into Detective Harmon's apartment while she's not home. He removes a key from a key chain and tests it in the door.
Laura returns to her hotel room and finds flowers from Ian. She gives the flowers back to Ian and tells him that she's not ready to date. He apologizes.
Laura ignores a phone call from Katy. Katy leaves a message, checking in on Laura.
Tom stops by Katy's house while Liam (Richie Campbell) is out. He informs her that he was suspended and starts to kiss her. She pushes him away. He threatens to tell Liam about their relationship but leaves when Liam returns.
Catherine tells Laura that she changed her mind about speaking with police. Laura realizes that Mrs. Cassidy convinced Catherine to keep quiet and implores her to speak out, but Catherine refuses to inflict more suffering on Mrs. Cassidy by having Andrew withhold her grandson.
Detective Maxwell drops Detective Harmon off at her house. She falls asleep on her couch after drinking a bottle of juice. Andrew slips into her apartment and rinses the juice bottle, which he had laced with GHP. He starts to remove Detective Harmon's clothes.
Laura returns to the airport for her flight and spots Ian. She invites him to sit with her and shares that she recently underwent a life-changing experience and is uncertain how to change back. He offers her heartfelt advice, then wishes her luck before leaving for his flight.
Laura returns home and finds a letter from Andrew's lawyer. She marches to Andrew's house and screams at him for threatening legal action. He offers to not sue her if she agrees to write a public post acknowledging her error. Laura reveals that she knows about Catherine.
Detective Harmon wakes up in a groggy state. She sees blood in the toilet after using the bathroom.
Laura tells Katy and Liam about Andrew's lawsuit. Katy urges Laura to let things go, but Laura refuses to let Andrew win.
Tom gives Laura a vial of GHP that she asked him to procure. He asks what she plans to do with it.
Liar airs Wednesdays at 10/9c on SundanceTV.