Liar Recap: Episode 102 (I Know You're Lying)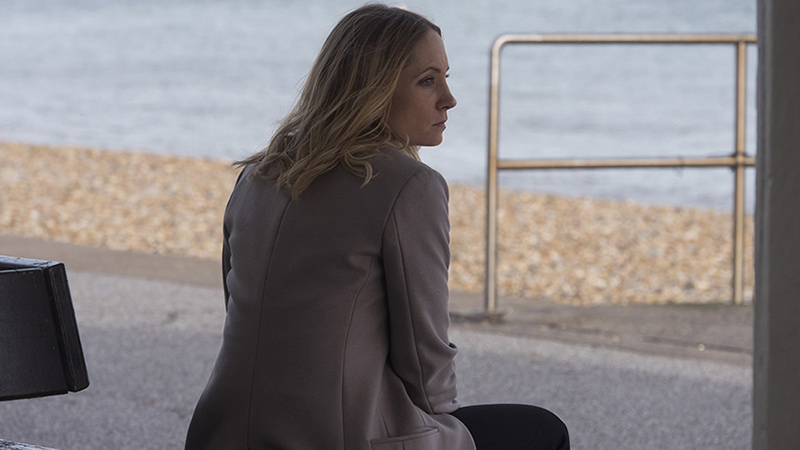 Luke (Jamie Flatters) calls his father Andrew (Ioan Gruffudd) at work and tells him about Laura's (Joanne Froggatt) online post accusing Andrew of rape. Andrew insists that Laura is lying.
Andrew angrily calls Laura about the post. She accuses him of drugging her and then cleaning the wine glasses. Andrew maintains his innocence.
Laura angrily washes her hands and breaks a glass.
In a flashback to their date, Andrew discloses to Laura that he leaves a spare key to his house under a gnome outside his front door.
Laura's hand shakes and bleeds as she holds a shard of glass.
Katy (Zoë Tapper) leaves a voicemail with Tom (Warren Brown) to inquire about his progress with Andrew's case.
Katy watches Liam (Richie Campbell) read to their kids and surprises him with an appreciative kiss.
Tom leaves a message for Katy, letting her know that he found something suspicious about Andrew's past.
Katy informs Laura that her post already received 10,000 shares. She worries that the post will affect the case and result in a loss of privacy for Laura.
Andrew explains to Luke that he slept with Laura but did not rape her. Luke assures Andrew that he believes him.
Laura receives a text from an unknown number. "I know you're lying," it says.
Laura kayaks to release her frustrations.
Laura urges Detectives Harmon (Shelley Conn) and Maxwell (Danny Webb) to search Andrew's home. They inform her that they lack a good enough reason to secure a warrant. They also mention that her online post could adversely affect her case.
Andrew reads the divisive responses to Laura's post. At work, he notices people whispering about him.
Laura reads hate comments about her online. She shows Katy a commenter who posted a vacation photo of her and called her a "slut." Katy suggests she take time off from school but Laura refuses.
Tom introduces himself to Detectives Harmon and Maxwell and informs them that he spoke to an investigator who looked into the suicide of Andrew's ex-wife, who died of an overdose. He mentions that there had been complaints about a domestic argument and that the ex-wife's mother had worried for her daughter's safety. They tell Tom to stay out of their case.
To Andrew's surprise, Katy shows up to assist him on a surgery. In the middle of the surgery, Andrew and Katy share a terse exchange. Andrew has an outburst while operating on the patient.
After the surgery, Katy warns Andrew that he shouldn't be at work.
Laura arrives at school and notices students whispering behind her back.
In the teacher's lounge, Birav (Akbar Kurtha) commends Laura for posting her story. Laura dejectedly cites a statistic that only 5.7 percent of rape cases in the U.K. end in a conviction.
In class, Laura finds two of her students looking at the "slutty" photo of her online. Luke glares at her. Laura loses her composure and excuses herself from the class.
Laura calls Katy and asks if Andrew is at work. Katy confirms that he's at the hospital. Laura tells Katy that she's going home for the day.
Andrew informs his boss that the rape accusation is affecting his work performance and asks for some time off.
At the police station, Detective Harmon reveals to Detective Maxwell that she's pregnant. He informs her that the Crown Prosecution Service (CPS) needs more evidence in order to prosecute Andrew.
Laura enters Andrew's house with the spare key from under the gnome.
Andrew drives home.
Laura searches Andrew's home and finds a vial of clear liquid underneath his bed.
Andrew arrives home and flops onto his bed. Laura sneaks out the front door.
Laura tells Tom that she broke into Andrew's house and found a vial of liquid under his bed. She begs him to find a reason to arrange a search of Andrew's home.
Katy surprises Liam with tickets to a sold-out concert. He jokes that she's buttering him up for bad news.
Tom asks a friend in the police department to search Andrew's house for GHB, using an anonymous tip as the basis for the search. When his friend refuses, Tom reminds him that he kept quiet about the friend's relationship with a prostitute.
Cops search Andrew's house. Andrew calls his lawyer.
Detectives Harmon and Maxwell confront Laura about enlisting Tom to arrange the search of Andrew's house. They report that the only item of note was a vial of insulin. They urge her to let them do their jobs.
Laura tearfully admits to Katy that she's ashamed that everyone knows about the rape.
A man named Dennis Walters (Peter Davison) calls Andrew to tell him that Laura falsely accused him of rape and ruined his life. They arrange to meet.
Laura realizes she's missing an earring.
Andrew finds the missing earring on his bedroom floor.
Liar airs Wednesdays at 10/9c on SundanceTV.