Liar Recap: Episode 101 (The Date)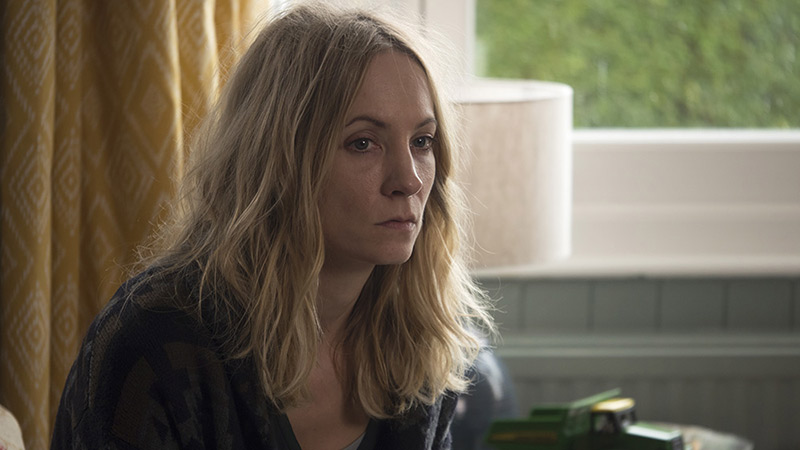 Laura (Joanne Froggatt) returns home after a morning kayak excursion and finds her ex-boyfriend, Tom (Warren Brown), moving the last of his items out of her apartment. They agree to stay friends.
Andrew (Ioan Gruffudd) drops off his son, Luke (Jamie Flatters), at school and asks Laura, who teaches at the school, out on a date.
In the teacher's lounge, Laura's colleague Birav (Akbar Kurtha) tells her that Andrew is a catch.
Luke smarts off to Laura in class. She gives him a smart response right back.
Laura's sister, Katy (Zoë Tapper), urges her to go on the date with Andrew, with whom she works. Laura texts Andrew to suggest a date the next evening. Andrew suggests they go out that night, instead, since he works the next day.
Laura takes a taxi to a restaurant and meets Andrew inside.
The next morning, Andrew texts Laura, "What an amazing night." Laura wakes up in a panic and immediately takes a shower.
Andrew's colleague inquires about his date. Andrew reports that it went well.
Laura goes to Katy's house in tears and says that Andrew had sex with her against her will. She says that her memory of the incident is hazy.
In a flashback, Laura and Andrew walk along the pier after dinner.
Laura and Katy visit a forensic examiner for a physical examination, and DNA and drug tests.
In a flashback, Andrew walks Laura to her door then realizes that his phone battery died. She offers to let him call a taxi from inside her apartment.
Detectives Harmon (Shelley Conn) and Maxwell (Danny Webb) question Laura about the rape then arrest Andrew at the hospital.
Katy brings Laura to stay at her house.
In a flashback, Laura suggests drinks while Andrew waits for his taxi. Andrew picks a bottle of wine and pours two glasses.
Katy asks Laura for the keys to her apartment to pack some of her clothes.
Katy arrives at Laura's apartment and finds a forensics team sweeping it for evidence. They send her away.
Andrew tells Detectives Harmon and Maxwell that he didn't rape Laura. He explains that they disrobed in her bedroom and that she didn't try to get up from the bed when he went to her bathroom for a condom. He asks why he would have sent her a text the following morning if he'd raped her.
Andrew is released on bail.
Katy tells her husband, Liam (Richie Campbell), about the alleged rape. Liam asks if the police know "what happened last time."
Laura goes to work, despite Katy's protests.
Andrew tries to tell Luke about the rape accusation but Luke reminds him that they're late for school.
At school, Birav asks Laura about the date. She brusquely tells him she doesn't want to talk about it.
Laura catches Luke goofing off in class and screams at him to see the headmaster.
In a flashback, Laura shows Andrew a photo of herself and Katy as children. He says that Katy talks about her so much it's as if he knows everything about her.
Andrew visits Laura at school to try and discuss what happened. He insists that she never told him to stop. She screams at him to get out.
Laura meets with Tom, who is a police officer, and worries that nobody will believe her if they find out she was on medication. He assures her she will be OK.
Katy secretly meets with Tom. Tom tells her that he loves her and will wait for her. She insists their affair was a mistake and asks him to investigate Andrew.
Detectives Harmon and Maxwell interview Laura and tell her that Andrew believed the sex was consensual. They point out that she had no cuts, bruises or genital injury, and that her drug test was negative. Detective Harmon asks why Laura didn't leave when Andrew got the condom. Laura stumbles and says she couldn't move while in bed. She stops the interview.
Laura stares at a couple of wine glasses in Katy's house and gets an idea.
Tom calls a coroner's office to inquire about the suicide of Mary Earlham, Andrew's dead wife.
Laura goes to her apartment and finds two glasses in the otherwise empty dishwasher. She tells Katy that Andrew must have drugged her and then washed the glasses. They deduce that he would have known that the drug GHB can disappear from the bloodstream within 12 hours, leaving no trace on a drug test. Laura worries that people will call her crazy once they learn her medical history. She writes a post on Andrew's profile page, accusing him of rape, to make sure that everyone knows what happened.
Liar airs Wednesdays at 10/9c on SundanceTV.