Because Sometimes "Law & Order" Meets "THE RED ROAD"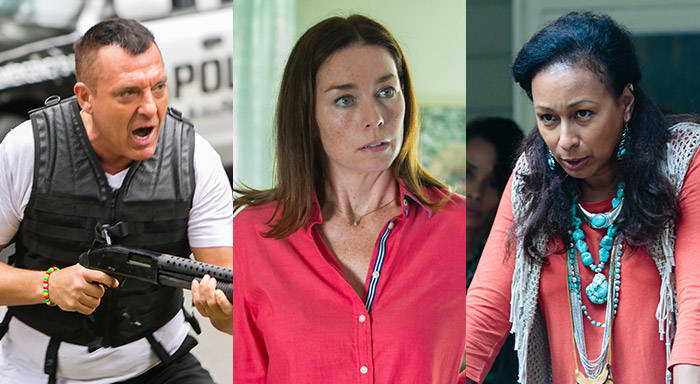 Missing THE RED ROAD cast? Us too. But guess where else you can find your favorite actors? Why, on Law & Order, of course! To wit…
Julianne Nicholson (Jean Jensen): She had several successful seasons as Detective Megan Wheeler on Law & Order: Criminal Intent. A powerhouse with a pixie cut, her character did not shy away from asking the hard questions.
Mike Farrell (David Rogers): The MASH alum took on the role of a wheelchair-bound crime buff who finds out he's married to a murderer on Law & Order: SVU's "Persona."
Nick Gomez (Frank Morgan): Best known for his stint on The Walking Dead, the actor who played the enraged father of the boy Jean Jensen hit with her SUV, had a guest star spot on Law & Order in 2001 as a thug arrested for the battery of a young woman during the Hispanic Day Parade.
Tamara Tunie (Marie): doesn't waste anytime getting down to the gory details as Medical Examiner Dr. Melinda Warner on Law & Order: Special Victims Unit. Tunie started on SVU during the second season and has been a main cast member ever since—for 14 years!

Tom Sizemore (Jack Kopus): He had a major guest starring role in an episode of Law & Order: SVU in 2012. Sizemore plays Louis Hoda, a building owner who sets fire to his own building and is eventually charged with the kidnapping of a little boy.