12 Stars You Had No Idea Appeared on "LAW & ORDER"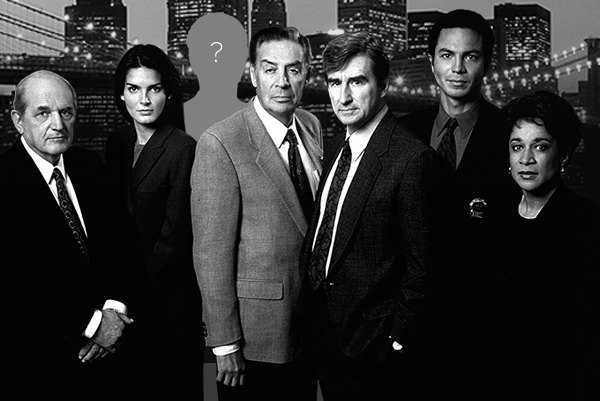 Plenty of big-name stars sank their teeth into juicy guest roles on LAW & ORDER over its 20 seasons of case-busting and legal maneuvering. (Julia Roberts, Chevy Chase and Sharon Stone among them.) But it's a truth all New York theater actors know that the series was often a very early stop on the way to fame.
Check out these stars who guested on LAW & ORDER before they made it big, and see how many you can spot on SundanceTV.
1. Philip Seymour Hoffman
Season 1, Episode 14
"The Violence of Summer"
Making his TV debut, Hoffman plays Steven Hanauer, a suspect in a rape investigation who seems to shirk the charges until new evidence is uncovered. Hoffman, of course, won an Oscar (for Capote) and accolades as one of the best actors of his generation before dying at age 46.
Bonus star sighting: Hanauer's lawyer was played by none other than a pre-Pulp Fiction Samuel L. Jackson.
2. William H. Macy
Season 2, Episode 17
"Sisters of Mercy"
Playing Jack Powell, the director of a teen shelter called Haven House who abuses the girls in his care, Macy taps into the unassuming-yet-sinister charm he's since made a trademark in movies like Fargo.
3. Claire Danes
Season 3, Episode 1
"Skin Deep"
Back in 1992, two years before she earned critical acclaim and devoted fans with My So-Called Life and her debut movie role, Little Women, Danes played a teenager embroiled in the murder of her mother's pimp/fashion photographer.
Bonus star sighting: Lauren Ambrose (Six Feet Under), in her very first screen credit.
4. Michael Pitt
Season 8, Episode 17
"Carrier"
Before his recurring role on Dawson's Creek, before playing Tommy Gnosis in Hedwig and the Angry Inch (when we first fell in love with him), before Gus Van Sant's Last Days, and well before Boardwalk Empire, Pitt was an HIV-positive kid intentionally infecting his sexual partners in this dark episode.
5. Jennifer Garner
Season 6, Episode 23
"Aftershock"
All dimples and charm, Jennifer Garner's Jaime attempts to seduce the very married Detective Rey Curtis (Benjamin Bratt) as he, his partner Lennie Briscoe (Jerry Orbach) and the D.A.s are left reeling after witnessing a prison execution.
6. Vera Farmiga
Season 8, Episode 12
"Expert"
Only a year after her first screen credit—the blink-and-you-missed-it series Roar, starring Heath Ledger—the Up in the Air star guested as a vengeful daughter who murders an expert witness she holds responsible for her father's conviction.
7. Peter Sarsgaard
Season 6, Episode 6
"Paranoia"
Sarsgaard—who went on to star in movies like An Education, Blue Jasmine, Shattered Glass and Jarhead, as well as The Killing—plays a college kid in this episode about the brutal murder of a classmate.
8. Julianna Margulies
Season 3, Episode 17
"Conduct Unbecoming"
She hadn't yet won everyone's hearts as Nurse Carol Hathaway on ER when Margulies made her TV debut as Lt. Ruth Mendoza, who spars with investigators—including Detective Mike Logan, played by her future Good Wife costar Chris Noth—over the death of another female officer.
9. Ellen Pompeo
Season 6, Episode 16
"Savior"
Nearly a decade before Grey's Anatomy, Pompeo was the sole survivor in her family after what seems to be a father's killing rampage in this chilling episode.
10. Ty Burrell
Season 11, Episode 2
"Turnstile Justice"
The Modern Family star got his television start as the husband of a woman found dead on a subway platform.
11. Leighton Meester
Season 9, Episode 15
"Disciple"
An itty-bitty Meester made her TV debut as Alyssa, the classmate of a girl who was killed in an ill-advised attempt to relieve her of her "demons" by a former nun (Frances Conroy, of Six Feet Under fame).
12. Ginnifer Goodwin
Season 12, Episode 7
"Myth of Fingerprints"
Long before Big Love and Once Upon a Time—even before she starred in Ed—Goodwin appeared in this memorable episode about a forensic fingerprint analyst who intentionally misidentified numerous samples, leading to a mess of false convictions.
LAW & ORDER marathons air on SundanceTV every Thursday and Friday afternoon starting at 3pm.