Cast Members
Steve Nash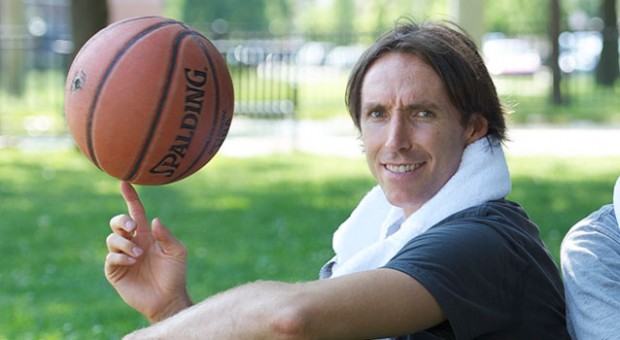 Steve Nash is one of the premier point guards in the NBA. Standing at 6'3" tall, this Phoenix Sun has the keen ability to drive inside to the basket, creating plays on the fly, and is a master of the fast break. His ability to quickly dish the ball to teammates made him the NBA's leader in regular season assists per game in the 2004-05, 2005-06 and 2006-07 seasons. He is virtually flawless at the free-throw line shooting an uncanny 91% from the stripe during the 2007-08 season. As a result of his unquestioned skills and his on the court leadership, Nash earned two straight NBA MVP Awards, putting him in a class with other NBA greats.
Prior to his time in Phoenix, Nash emerged as a starting point guard and team leader for the Dallas Mavericks. Under his on-court leadership, the Mavericks became one of the perennial powerhouses in the NBA. Ironically, the Mavericks acquired Nash in a trade with the Phoenix Suns, where Nash began his NBA career as the 15th overall pick in the 1996 NBA Draft. Nash attended Santa Clara University, where he was twice named West Coast Conference Player of the Year and led the Broncos to three NCAA tournament appearances in four years.
Off the court, Nash spends his time focused on philanthropy through the Steve Nash Foundation. A recent recipient of the Steve Patterson Philanthropy Award, the Steve Nash Foundation is dedicated to assisting underserved children in their health, personal development, education and enjoyment of life. The Foundation aims to grow health in kids by funding projects that provide direct services to children affected by poverty, illness, abuse, or neglect, and create opportunity for education, health, and empowerment.
In 2008, Nash tapped into another interest with the creation of his own film production company, "Meathawk." Nash, a longtime film lover created Meathawk with his cousin, Ezra Holland, and founding partner Jono Abrams as an outlet for him to immerse himself into one of his favorite interests. Thus far, Nash has produced, directed and starred in two viral Nike commercials for his sneakers. The first, entitled, "Training Day" features Nash's skills on a skateboard, on a tennis court, with a soccerball and on the basketball court emphasizing the importance of practice and displaying Nash's athleticism. The second, called, "The 60 Million Dollar Man" is Nash's play on "The Six Million Dollar Man" showing Nash physically breakdown into pieces and then be "recycled," better, stronger and faster than he was before. Growing up, Nash was the complete athlete participating in numerous sports including soccer, hockey, lacrosse and tennis on Vancouver Island in British Columbia.
The Nash family immigrated to Canada from Johannesburg, South Africa, where Nash was born on February 7, 1974. Nash, his wife, Alejandra, and twin daughters Isabella and Lourdes split time between Phoenix, New York and Canada.